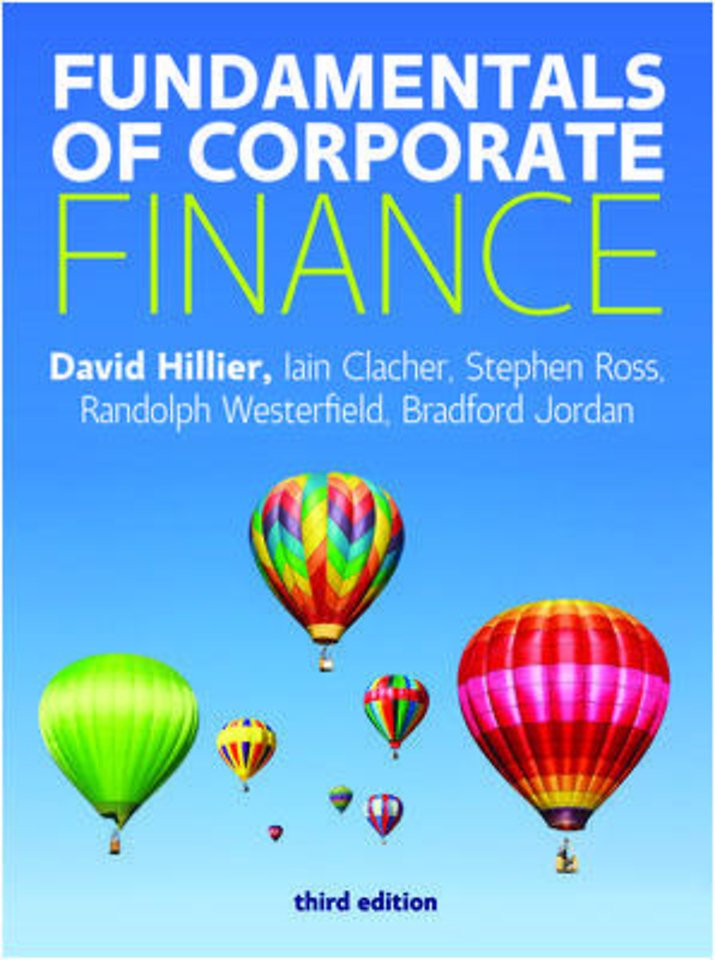 Samenvatting
The exciting new third edition of Fundamentals of Corporate Finance uses a unique problem solvingapproach and student friendly writing style to bring to life modern-day coreprinciples covered in Corporate Finance courses. It has been fully updated toreflect the most current and topical trends and developments in CorporateFinance.
Key features of this new edition include:
- New Real World Insights use well-knowninternational companies such as Uber, Elringklinger GB, Apple, Google andAdidas, as well as drawing on world events, to show how companies put CorporateFinance into practice and how real world events affect their corporate financedecisions.
- New coverage inthe International Corporate Finance chapter on Islamic finance.
- Updated BehaviouralFinance chapter has been enhanced by new coverage in the subject area.
- Updated examples which use hypotheticalexamples to take students step-by-step through concepts in a clear and coherentmanner to help their understanding and learning.
- The extensive end of chapter content has been updated withmany brandnew practice questions and problems, organized by level of difficulty.
New to this edition is SmartBook with integratedlearning resources. When engaged with SmartBook's adaptive reading experience,students are guided towards textbook content that has the maximum learningimpact every time they study. This creates an entirely personalized learningexperience for each individual student. The learning resources reinforceimportant concepts at precise moment they need help.
Specificaties
Verschijningsdatum:
30-3-2017
Lezersrecensies
Wees de eerste die een lezersrecensie schrijft!
Inhoudsopgave
Part I: Overviewof Corporate Finance
1. Introduction toCorporate Finance
2. CorporateGovernance
3. FinancialAnalysis and Planning

Part II: Valuationof Future Cash Flows
4. Introduction toValuation: The Time Value of Money
5. Discounted CashFlow Valuation
6. Bond Valuation
7. Equity Valuation

Part III: CapitalBudgeting
8.Net PresentValue and Other Investment Criteria
9. Making CapitalInvestment Decisions
10. ProjectAnalysis and Evaluation

Part IV: Risk andReturn
11. Some Lessonsfrom Recent Capital Market History
12. Return, Risk,and the Security Market

Part V: Cost ofCapital and Long-Term Financial Policy
13. Cost of Capital
14. Raising Capital
15. FinancialLeverage and Capital Structure Policy
16. Dividends andPayout Policy

Part VI: Topics inCorporate Finance
17. Short-TermFinancial Planning and Management
18. InternationalCorporate Finance
19. BehaviouralFinance
20. Financial RiskManagement
21. Options andCorporate Finance
22. Mergers &Acquisitions
Mensen die dit boek kochten, kochten ook...