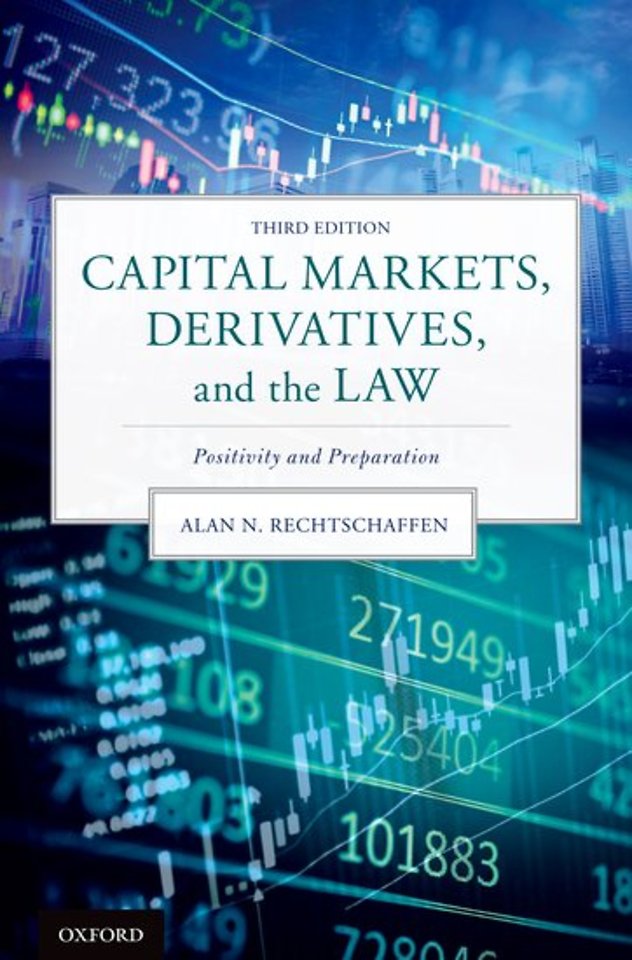 Alan Rechtschaffen
Capital Markets, Derivatives, and the Law
Positivity and Preparation
Gebonden
Engels
2019
9780190879631
Verwachte levertijd ongeveer 10 werkdagen
Samenvatting
Dramatic failures in individual markets and institutions sparked a global financial crisis that resulted in political, social, and economic unrest. In the United States, a host of legislative acts have completely reshaped the regulatory landscape.
Capital Markets, Derivatives and the Law: Positivity and Preparation investigates the impact of the financial crisis on capital markets and regulation. With an emphasis on the structure and the workings of financial instruments, it considers market evolution after the crisis and the impact of Central Bank policy. In doing so, it provides the reader with the tools to recognize vulnerabilities in capital market trading activities.
This edition serves as an essential guide to better understand the legal and business considerations of capital market participation. With useful definitions, case law examples, and expert insight into structures, regulation, and litigation strategies, Capital Markets, Derivatives and the Law: Positivity and Preparation offers readers invaluable tools to make prudent, well-informed decisions.
Specificaties
Verschijningsdatum:
13-6-2019
Lezersrecensies
Wees de eerste die een lezersrecensie schrijft!
Inhoudsopgave
Foreword
Preface
Acknowledgments

Introduction

Chapter 1: The financial crisis: sowing the seeds of new regulation
Chapter 2: Financial instruments in the capital markets
Chapter 3: Using financial instruments
Chapter 4: Securities regulation
Chapter 5: Understanding interest rates and the economy
Chapter 6: Asset valuation
Chapter 7: United states treasury securities
Chapter 8: Debt securities
Chapter 9: Derivatives
Chapter 10: Types of swaps
Chapter 11: Regulation of swaps
Chapter 12: Fiduciary obligation to manage risk
Chapter 13: The History and Powers of the CFTC
Chapter 14: Litigation issues
Chapter 15: Suitability
Chapter 16: Options
Chapter 17: Synthesis and Conclusion
Chapter 18: Fiduciary Obligation to Manage Risk
Chapter 19: Litigation Issues
Chapter 20: Synthesis and Conclusion

Appendix
Index
Mensen die dit boek kochten, kochten ook...