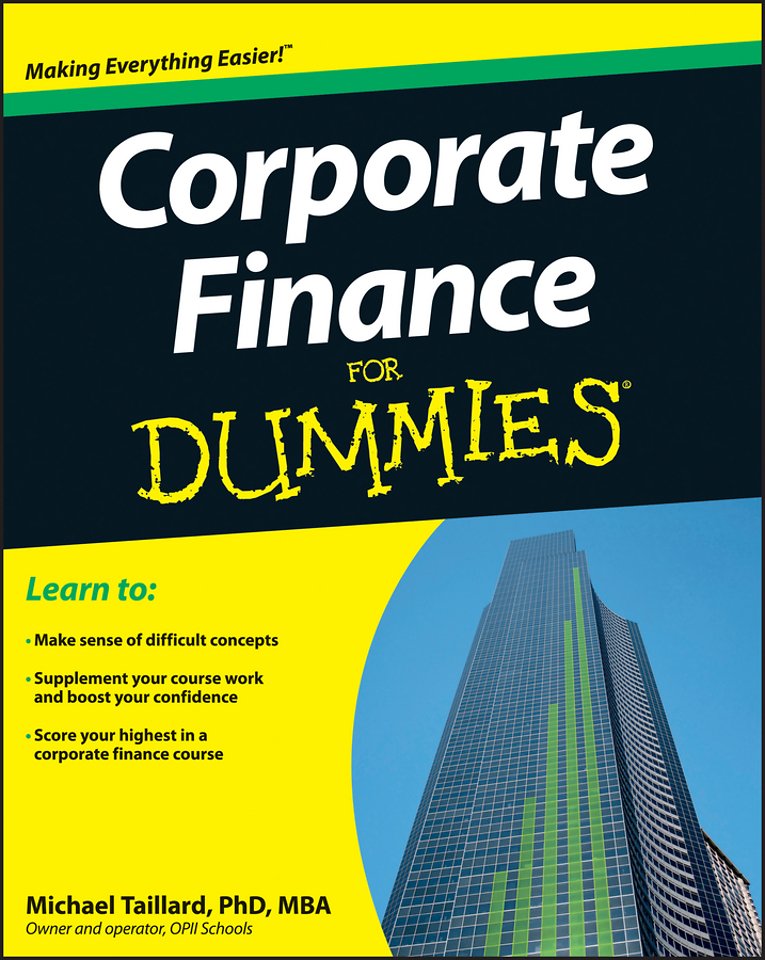 Michael Taillard
Corporate Finance For Dummies
Paperback
Engels
2013
9781118412794
Op voorraad | Op werkdagen voor 21:00 uur besteld, volgende dag in huis
Samenvatting
Score your highest in corporate finance
The math, formulas, and problems associated with corporate finance can be daunting to the uninitiated. Corporate Finance For Dummies introduces you to the practices of determining an operating budget, calculating future cash flow, and scenario analysis in a friendly, un–intimidating way that makes comprehension easy.
Corporate Finance For Dummies covers everything you′ll encounter in a course on corporate finance, including accounting statements, cash flow, raising and managing capital, choosing investments; managing risk; determining dividends; mergers and acquisitions; and valuation.
-Serves as an excellent resource to supplement coursework related to corporate finance
-Gives you the tools and advice you need to understand corporate finance principles and strategies
-Provides information on the risks and rewards associated with corporate finance and lending
With easy–to–understand explanations and examples, Corporate Finance For Dummies is a helpful study guide to accompany your coursework, explaining the tough stuff in a way you can understand.
Specificaties
Verschijningsdatum:
4-1-2013
Lezersrecensies
Wees de eerste die een lezersrecensie schrijft!
Inhoudsopgave
Introduction 1
Part I: What s Unique about Corporate Finance 7
Chapter 1: Introducing Corporate Finance 9
Chapter 2: Navigating the World of Corporate Finance 17
Chapter 3: Raising Money for Business Purposes 35
Part II: Reading Financial Statements as a Second Language 43
Chapter 4: Proving Worth Using the Balance Sheet 45
Chapter 5: Getting Paid with the Income Statement 57
Chapter 6: Easy Come, Easy Go: Statement of Cash Flows 65
Chapter 7: Making Financial Statements Useful with Metrics Analysis 73
Chapter 8: Measuring Financial Well–Being with Special Use Metrics 95
Part III: Valuations on the Price Tags of Business 111
Chapter 9: Determining Present and Future Values: Time Is Money 113
Chapter 10: Bringing in the CAValry for Capital Asset Valuations 121
Chapter 11: Bringing on Your Best Bond Bets 137
Chapter 12: Being Savvy When Shopping for Stock 153
Chapter 13: Measuring Valuations of the Might–Be: Derivatives 169
Part IV: A Wonderland of Risk Management 181
Chapter 14: Managing the Risky Business of Corporate Finances 183
Chapter 15: Through the Looking Glass of Modern Portfolio Theory 193
Chapter 16: Financially Engineering Yourself Deeper Down the Rabbit Hole 211
Chapter 17: Assessing Capital Structure Is WACC 227
Part V: Financial Management 235
Chapter 18: Assessing Financial Performance 237
Chapter 19: Forecasting Finances Is Way Easier than the Weather 257
Chapter 20: The 411 on M&A 271
Part VI: The Part of Tens 289
Chapter 21: Ten Things You Need to Know about International Finance 291
Chapter 22: Ten Things You Need to Understand about Behavioral Finance 305
Index 317

Mensen die dit boek kochten, kochten ook...