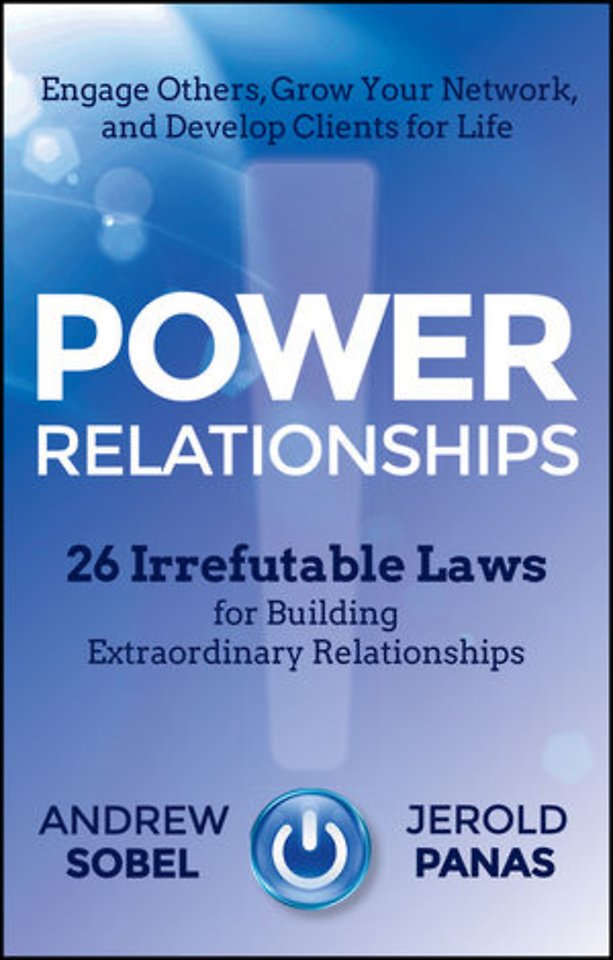 Andrew Sobel, Jerold Panas
Power Relationships
26 Irrefutable Laws for Building Extraordinary Relationships
Gebonden
Engels
2014
9781118585689
Verwachte levertijd ongeveer 8 werkdagen
Samenvatting
The Relationship Laws that Drive Success
There are powerful but invisible laws that determine whether your relationships with your clients, colleagues, and friends will thrive or wither. These relationship laws are ever–present. When you align with them, the results are dramatic. Your network will grow rapidly. You ll be seen by clients as a trusted partner rather than an expense to be managed. And you ll find the people around you eager to help you succeed.
When you ignore the laws, however, your efforts will falter. Relationship building will seem like very hard work. Power Relationships gives readers a unique, entertaining guide to relationship success at work and in life. Each of the 26 laws is illustrated and explained using a compelling, real–life story that shows how to implement it. The second section of the book presents 16 common relationship challenges with specific solutions.
You'll read about:
- The top Citigroup executive whose relationship with a CEO was changed forever on a business trip that exploded into chaos, and how you can use the same principle to deepen your own relationships.
- The philanthropist who, on the verge of being mugged in a dark parking lot, learns how his actions have had an unimaginable ripple effect across several generations
- How one of the authors flew halfway around the world and used Law 18 Make them curiousto turn a make–or–break, five–minute meeting with a top executive into a long–term relationship
- The chance encounter on an airplane with a famous actor that revealed a simple but profound truth. It's Law 25: Build your network before you need it.
Specificaties
Verschijningsdatum:
18-2-2014
Lezersrecensies
Wees de eerste die een lezersrecensie schrijft!
Inhoudsopgave
Download the Free Power Relationships Planning Guide

1. The Missing Ingredient
2. Be Audacious
3. Where Were You?
4. The Greatest Gift
5. What s the Agenda?
6. The Billionaire and the Minister
7. Beware of a Cart Pulling a Horse
8. Found Guilty
9. Never Steal a Bacon Sandwich
10. Oops!
11. Don't Forget Your Wallet
12. A Night in the Garbage Bin
13. Don't Wait
14. A Little Help for Your Friends
15. Make It So
16. A Puppy Tale
17. The Carrot and the Stick
18. Draw Them In
19. Color Me Pink
20. Are You Clever or Wise?
21. For the Sheer Joy of It
22. A Tale of Two Cities
23. To Die For
24. Start an Epidemic
25. Build It First
26. A Pebble in a Pond

Applying the Laws
About the Authors
Mensen die dit boek kochten, kochten ook...