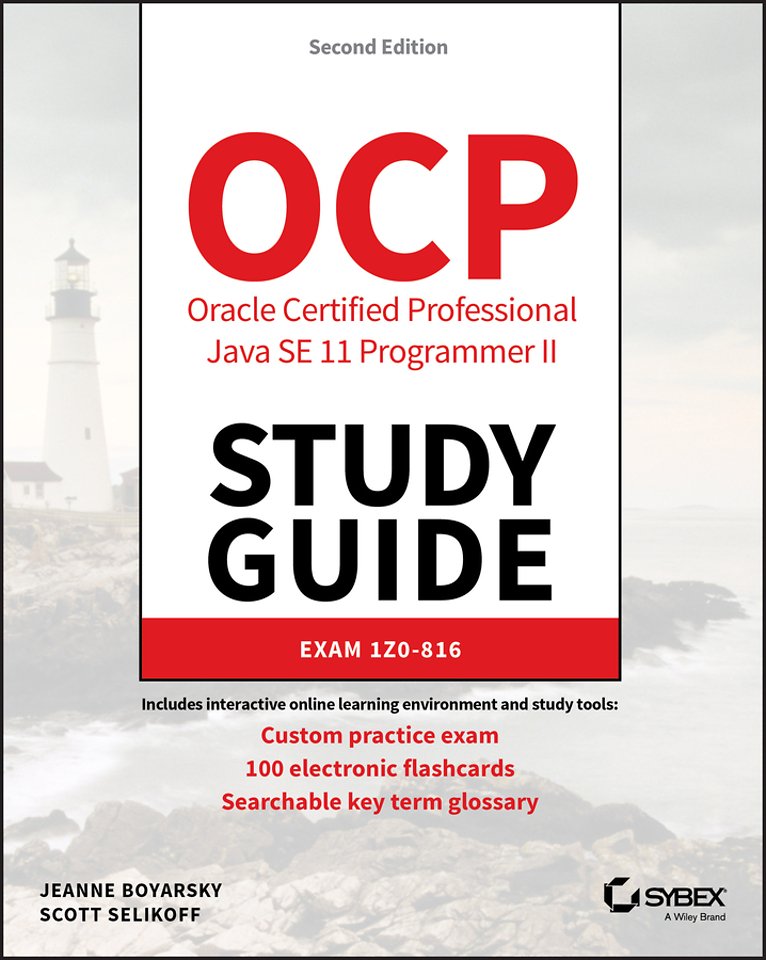 Jeanne Boyarsky, Scott Selikoff
OCP Oracle Certified Professional Java SE 11 Programmer II Study Guide
Exam 1Z0–816
Paperback
Engels
2020
9781119617624
Nog niet verschenen, verschijningsdatum onbekend
Samenvatting
The completely-updated preparation guide for the new Oracle Certified Professional Java SE 11 Programmer II exam-covers Exam 1Z0-816 Java, a platform-independent, object-oriented programming language, is used primarily in mobile and desktop application development.
It is a popular language for client-side cloud applications and the principal language used to develop Android applications. Oracle has recently updated its Java Programmer certification tracks for Oracle Certified Professional.
Now in its second edition, the OCA Oracle Certified Professional Java SE 11 Programmer II Study Guide ensures that you are fully prepared for this difficult certification exam. Covering 100% of exam objectives, this in-depth study guide provides comprehensive coverage of the functional-programming knowledge necessary to succeed. Every exam topic is thoroughly and completely covered including exceptions and assertions, class design, generics and collections, threads, concurrency, IO and NIO, and more.
Access to Sybex's superior online interactive learning environment and test bank-including self-assessment tests, chapter tests, bonus practice exam questions, electronic flashcards, and a searchable glossary of important terms--provides everything you need to be fully prepared on exam day.
This must-have guide: Covers all exam objectives such as inheriting abstract classes and interfaces, advanced strings and localization, JDBC, and Object-Oriented design principles and patternsExplains complex material and reinforces your comprehension and retention of important topicsHelps you master more advanced areas of functional programmingDemonstrates practical methods for building Java solutions The OCA Oracle Certified Professional Java SE 11 Programmer II Study Guide will prove invaluable for anyone seeking achievement of this challenging exam, as well as junior- to senior-level programmers who uses Java as their primary programming language.
Specificaties
Verschijningsdatum:
2-9-2020
Inhoudsopgave
Introduction xxi
Assessment Test xliv

Chapter 1 Java Fundamentals 1
Chapter 2 Annotations 59
Chapter 3 Generics and Collections 105
Chapter 4 Functional Programming 175
Chapter 5 Exceptions, Assertions, and Localization 247
Chapter 6 Modular Applications 309
Chapter 7 Concurrency 345
Chapter 8 I/O 419
Chapter 9 NIO.2 475
Chapter 10 JDBC 529
Chapter 11 Security 575

Appendices 611
Appendix A The Upgrade Exam 611
Appendix B Answers to Review Questions 657

Index 697
Vaak samen gekocht
Mensen die dit boek kochten, kochten ook...