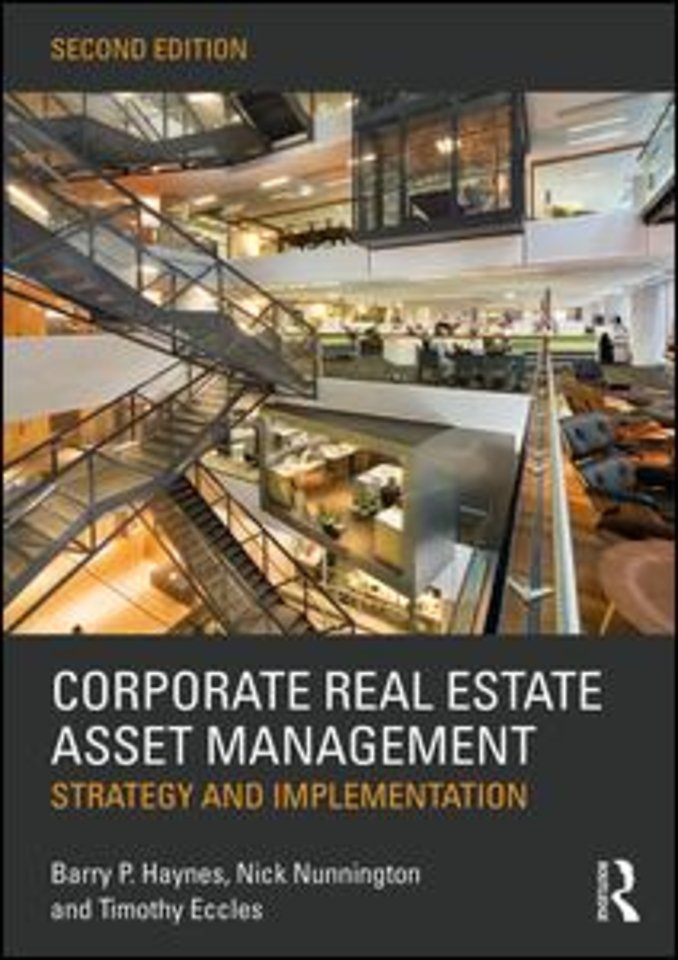 Samenvatting
The second edition of Corporate Real Estate Asset Management is fully up to date with the latest thought and practice on successful and efficient use of corporate office space. Written from an occupier's perspective, the book presents a ten-point CREAM model that offers advice on issues such as sustainability, workplace productivity, real estate performance measurement, change management and customer focus. In addition, new case studies provide real-life examples of how corporations in the UK, USA, Hong Kong and Abu Dhabi actively manage their corporate real estate.
The book is aimed at advanced undergraduate and graduate students on corporate real estate, facilities management and real estate courses and international MBA programmes.
Specificaties
Verschijningsdatum:
2-5-2017
Lezersrecensies
Wees de eerste die een lezersrecensie schrijft!
Inhoudsopgave
1. The Cream Context
2. Positon: Understanding the business environment
3. Purpose: How company and corporate strategies can be aligned
4. Paradigm: How a company aligns its real estate with its culture, mission and values
5. Processes: How real estate can support business processes, activities and work styles
6. Procurement: Selecting appropriate real estate options that support the strategic and financial requirements of the corporate occupier
7. Place: Selecting appropriate locations, buildings and configurations
8. People: The importance of the interaction between people and real estate
9. Planet: How CREAM can integrate sustainability, responsibility and governance
10. Performance: How to measure and benchmark the performance of corporate real estate
11. Productivity: How CREAM can support improved business productivity
Case Studies
Case Study 1: A Sectoral view of CREAM: TMT
Case Study 2: Implementing Activity Based Working
Case Study 3: Activity based Workplaces
Case Study 4: Benchmarking key CREAM components
Case Study 5: Integrating Sustainability into CREAM practice
Case Study 6: CREAM in the Public Sector
Case Study 7: Coworking: JustCo Case Study Singapore
Case Study 8: Workplace Transformation: Nokia connecting people
Case Study 9: Headquarter reconfiguration: The Hong Kong Jockey Club
Mensen die dit boek kochten, kochten ook...