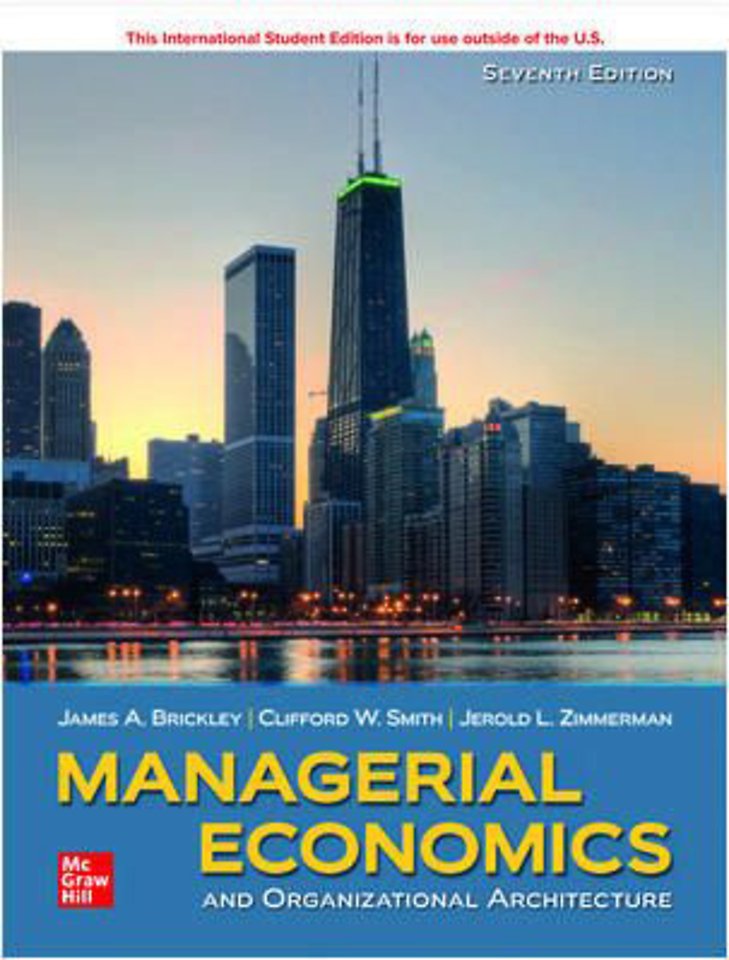 Samenvatting
Empower your students to solve today's important business problems with the basic tools of economics and without overwhelming calculus. Ideal for MBA courses, Brickley focus on data-driven decision-making and managerial applications within the structure of an organization. Using multidisciplinary examples, students leverage the underlying economic framework to analyze a variety of problems managers face today. It also provides an in-depth analysis of the firm and corporate governance topics.
Brickley paired with Connect Economics provides assignable,auto-gradable versions of test bank content. Assignable content is fully integrated with the eBook. Students are also able to search, highlight, and take notes within the ReadAnywhere eBook and complete adaptive reading assignments offline. Connect provides instructors with powerful reporting tools allowing them to plan, track, and analyze student performance across learning outcomes.
Specificaties
Verschijningsdatum:
24-11-2020
Lezersrecensies
Wees de eerste die een lezersrecensie schrijft!
Inhoudsopgave
Part 1: Basic Concepts
Chapter 1 Introduction
Chapter 2 Economists' View of Behavior
Chapter 3 Exchange and Markets

Part 2: Managerial Economics
Chapter 4 Demand
Chapter 5 Production and Cost
Chapter 6 Market Structure
Chapter 7 Pricing with Market Power
Chapter 8 Economics of Strategy: Creating and Capturing Value
Chapter 9 Economics of Strategy: Game Theory
Chapter 10 Incentive Conflicts and Contracts

Part 3: Designing Organizational Architecture
Chapter 11 Organizational Architecture
Chapter 12 Decision Rights: The Level of Empowerment
Chapter 13 Decision Rights: Bundling Tasks into Jobs and Sub-units
Chapter 14 Attracting and Retaining Qualified Employees
Chapter 15 Incentive Compensation
Chapter 16 Individual Performance Evaluation
Chapter 17 Divisional Performance Evaluation
Capstone Case Study on Organizational Architecture: Arthur Andersen LLP

Part 4: Applications of Organizational Architecture
Chapter 18 Corporate Governance
Chapter 19 Vertical Integration and Outsourcing
Chapter 20* Leadership: Motivating Change within Organizations
Chapter 21 Understanding the Business Environment: The Economics of Regulation
Chapter 22 Ethics and Organizational Architecture
Chapter 23* Organizational Architecture and the Process of Management Innovation
Mensen die dit boek kochten, kochten ook...