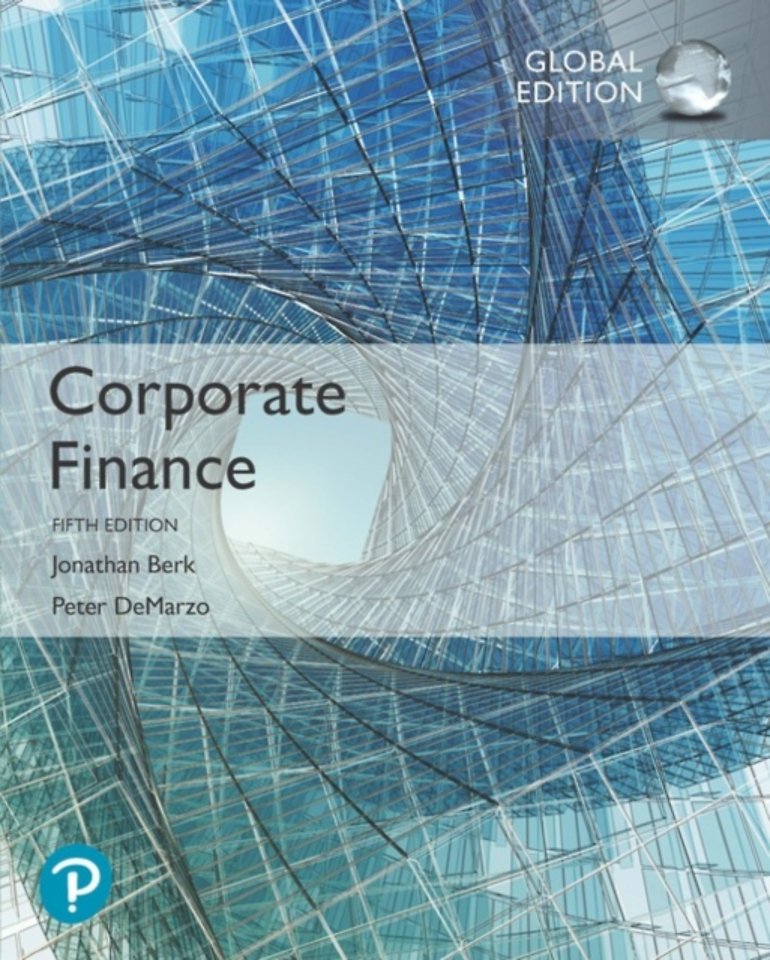 Jonathan Berk, Peter DeMarzo
Corporate Finance, Global Edition
Paperback
Engels
2019
9781292304151
Verwachte levertijd ongeveer 7 werkdagen
Samenvatting
This title is a Pearson Global Edition. The Editorial team at Pearson has worked closely with educators around the world to include content, which is especially relevant to students outside the United States. For MBA/graduate students taking a course in corporate finance.
An emphasis on modern theory blended with practice elevates students' financial decision making Using the valuation framework based on the Law of One Price, top researchers Jonathan Berk and Peter DeMarzo have set the new canon for corporate finance textbooks. Corporate Finance, 5th Edition blends coverage of time-tested principles and the latest advancements with the practical perspective of the financial manager. Students have the opportunity to "practice finance to learn finance" by solving quantitative business problems like those faced by today's professionals.
With built-in resources to help students master the core concepts, students develop the tools they need to make sound financial decisions in their careers. For a streamlined book specifically tailored to the topics covered in the first one-semester course, Corporate Finance: The Core, 5th Edition is also available by Jonathan Berk and Peter DeMarzo. MyLab Finance is not included.
Students, if MyLab Finance is a recommended/mandatory component of the course, please ask your instructor for the correct ISBN. MyLab Finance should only be purchased when required by an instructor. Instructors, contact your Pearson representative for more information.
Reach every student by pairing this text with MyLab FinanceMyLab (TM) is the teaching and learning platform that empowers you to reach every student. By combining trusted author content with digital tools and a flexible platform, MyLab personalizes the learning experience and improves results for each student.
Specificaties
Verschijningsdatum:
1-7-2019
Lezersrecensies
Wees de eerste die een lezersrecensie schrijft!
Inhoudsopgave
PART 1: INTRODUCTION
1. The Corporation and Financial Markets
2. Introduction to Financial Statement Analysis
3. Financial Decision Making and the Law of One Price

PART 2: TIME, MONEY, AND INTEREST RATES
4. The Time Value of Money
5. Interest Rates
6. Valuing Bonds

PART 3: VALUING PROJECTS AND FIRMS
7. Investment Decision Rules
8. Fundamentals of Capital Budgeting
9. Valuing Stocks

PART 4: RISK AND RETURN
10. Capital Markets and the Pricing of Risk
11. Optimal Portfolio Choice and the Capital Asset Pricing Model
12. Estimating the Cost of Capital
13. Investor Behavior and Capital Market Efficiency

PART 5: CAPITAL STRUCTURE
14. Capital Structure in a Perfect Market
15. Debt and Taxes
16. Financial Distress, Managerial Incentives, and Information
17. Payout Policy

PART 6: ADVANCED VALUATION
18. Capital Budgeting and Valuation with Leverage
19. Valuation and Financial Modeling: A Case Study

PART 7: OPTIONS
20. Financial Options
21. Option Valuation
22. Real Options

PART 8: LONG-TERM FINANCING
23. Raising Equity Capital
24. Debt Financing
25. Leasing

PART 9: SHORT-TERM FINANCING
26. Working Capital Management
27. Short-Term Financial Planning

PART 10: SPECIAL TOPICS
28. Mergers and Acquisitions
29. Corporate Governance
30. Risk Management
31. International Corporate Finance
Mensen die dit boek kochten, kochten ook...