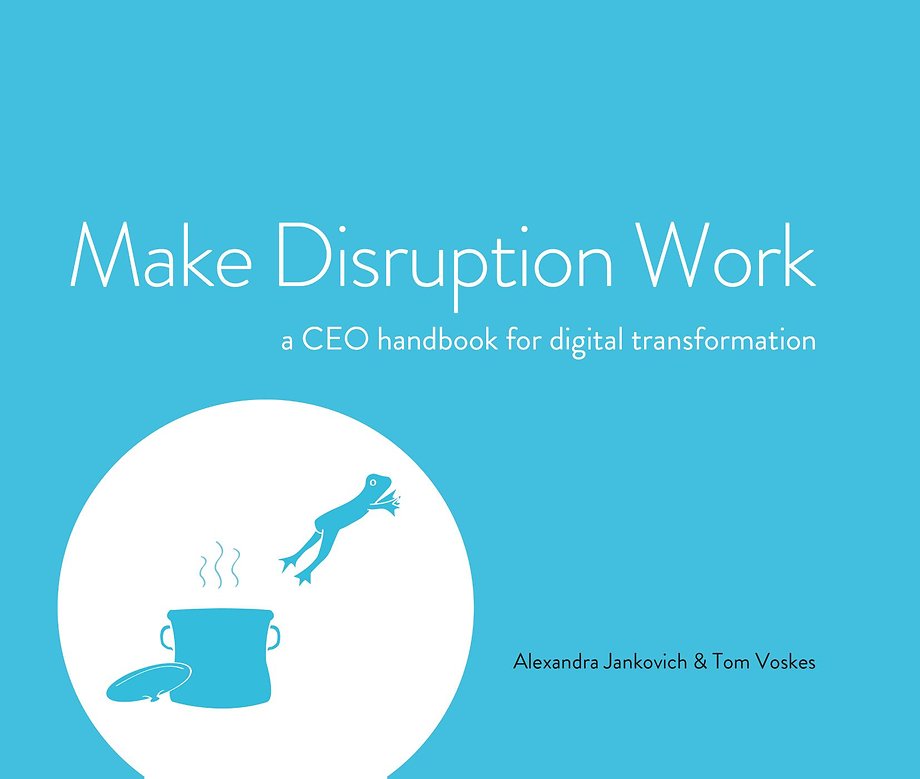 Alexandra Jankovich
Alexandra started in traditional strategy consultancy at McKinsey & Company, before moving on to set up the digital division at RELX (Elsevier Science) in New York, and later holding a number of senior digital management positions across the US and Europe. Meer over de auteurs
Alexandra Jankovich, Tom Voskes
Make Disruption Work
a CEO handbook for digital transformation
E-book
Epub met watermerkbeveiliging
Engels
2018
9789082838213
Samenvatting
We have entered a new era of technology-driven disruption, and no industry or sector will be left unaffected. For business, the water is heating up, and if you don't want to get boiled you'll need to craft a winning strategy. But how? You don't have to be a geek-chic millennial, but you do need some new knowledge, and the practical blueprints for its application. That's what's in this book
'With outstanding simplicity and deep insights, this book reveals the "how to" of digital disruption.' – Paul Polman CEO, Unilever
'Disruption is on every business leader's mind. Alexandra Jankovich and Tom Voskes have taken this complex topic and created a very clear, actionable path.' – Wiebe Draijer CEO, Rabobank
'A powerful guide to help navigate disrupted waters. After reading, you feel convinced that, yes, corporates can beat start-ups!' – Franck J. Moison Vice Chairman, Colgate – Palmolive
'Disruption demystified! This book is unique: in a realm of gurus and doomsayers, it offers practical perspectives and a clear manual for every company to master disruption.' – Annet Aris Adjunct Professor of Strategy, INSEAD
'Easy-to-digest, visually appealing, and packed full of useful advice for senior leaders.' – Michael Wade, Professor of Innovation and Strategy, IMD
'Fantastic book!!!' – Menno Antal, Managing Partner, 3i Private Equity
'A must-read for any modern-day business leader.' – Rahmyn Kress, Chief digital Officer, Henkel
'Concrete actions backed by real-world experience, and not just consulting "fluff." SparkOptimus has created a winner!' – Jan Derck van Karnebeek, Chief Commercial Officer, Heineken
Specificaties
Verschijningsdatum:
10-4-2018
Expertrecensies
(2)

Make Disruption Work
Henny Portman | 30 september 2019
Make Disruption Work - 'Interessante kijk op de aanpak van disruptie'
Edwin Tuin | 22 oktober 2018
Make Disruption Work is een boek van ruim 100 pagina's met een positieve insteek dat haar doelgroep de CEO (ondertitel 'a CEO handbook voor digital transformation') een overzicht geeft van te nemen stappen in het disruptieproces.
Lees verder
Over Alexandra Jankovich
Alexandra started in traditional strategy consultancy at McKinsey & Company, before moving on to set up the digital division at RELX (Elsevier Science) in New York, and later holding a number of senior digital management positions across the US and Europe. As Managing Director of Lastminute.com Benelux, she took the site to the no.1 spot in six months. Alexandra holds a Masters in Business Administration, and previously conducted research in Chile for the SHV board. She is co-founder of SparkOptimus, and appears on lists like TheNextWomen100.
Andere boeken door Alexandra Jankovich
Over Tom Voskes
Tom started at Proctor & Gamble in line management, before also working at McKinsey & Company — first in Amsterdam, and later Boston on the 'Diamond' programme for top consultants. He then headed marketing at KKR-owned Maxeda, the largest non-food retailer in the Netherlands. Tom holds a Masters in Astrophysics, and could previously be found conducting research at the ESO, also in Chile, at one of the world's biggest observatories, and publishing on the warped layers of the outer galaxy. He is co-founder of SparkOptimus.
Andere boeken door Tom Voskes
Inhoudsopgave
Introduction: how not to be a boiled frog

1. Discover the new world
2. Define how to act
3. Determine what you need
4. Drive the change
5. Delight in the new world

Three case studies
Aanbevolen live events...
Mensen die dit e-book kochten, kochten ook...