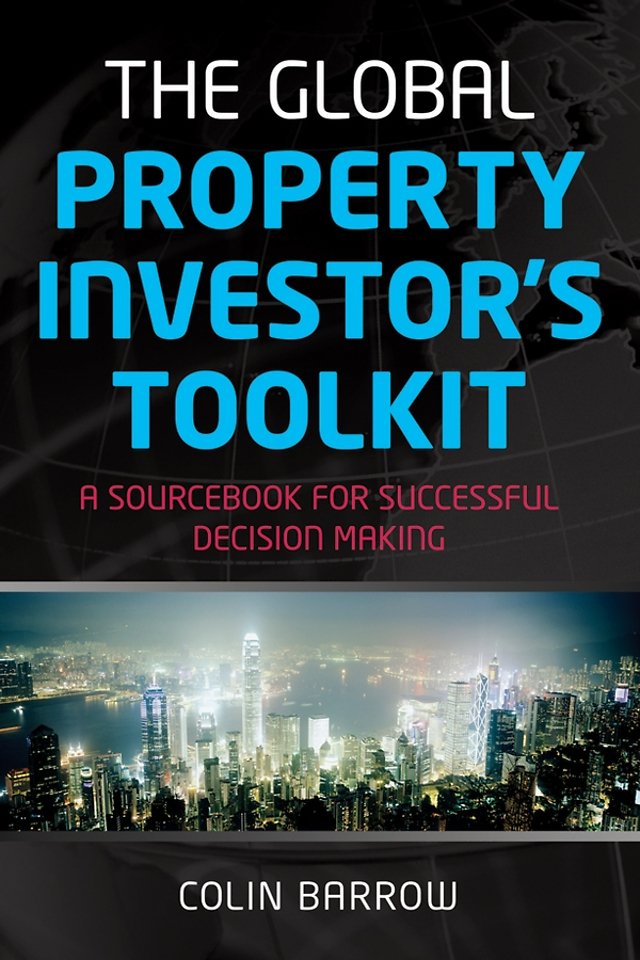 Colin Barrow
The Global Property Investor′s Toolkit
A Sourcebook for Successful Decision Making
Paperback
Engels
2008
9781841127637
Verwachte levertijd ongeveer 8 werkdagen
Samenvatting
How real estate investors and speculators can take their business global
The real estate boom has gone global, and those successful investors who want to keep up their profits are starting to look at emerging markets on other continents. Markets in South America, Eastern Europe, India, and Asia are currently experiencing the rapid growth that mature domestic markets experienced a few years ago. Based on the author′s personal experience buying and selling dozens of overseas properties, this book provides all the relevant data investors need to evaluate properties and markets anywhere in the world.
Colin Barrow (Hayle, Cornwall, UK) is a non–executive director of two venture capital funds and serves on the UK Government Task Force for Business.
Specificaties
Uitgever:
John Wiley & Sons
Lezersrecensies
Wees de eerste die een lezersrecensie schrijft!
Inhoudsopgave
Introduction.
Why buy property overseas?
Who should read this book?
About this book.
How the book is structured.
How the chapters are structured.
Research does pay off.
Part 1: The World Property Market A Beginner s Guide.
Property the backbone of wealth creation
The world is enough.
Chapter 1: Why Buy More Property?
Keeping track of world interest in property.
Increased life expectancy and the demise of guaranteed pensions.
Actuaries: life expectancy s bean counters.
Tracking life expectancy.
More ways to convince yourself to buy property.
Property as an investment.
Capacity for being profitable.
Reasonably secure.
Ready re–sale market.
Produce cash flow during its life.
Understanding the gearing effect.
Checking out gearing and profit t returns.
Chapter 2: Why Buy Abroad?
Higher potential rewards.
Websites for tracking property price movements.
But higher and different risks.
Websites that help track overseas property risks.
Chapter 3: The World Property Markets Segments and Drivers.
Property cycles.
The commercial property market matters too.
Tracking commercial property markets: useful websites.
Watching the cycles.
Spotting a turning point.
Understanding economic cycles.
Chapter 4: It s a Global World The Coming of Capitalism.
Capitalism: the ascending economic philosophy.
Measuring the effects of introducing capitalism: is the EU a role model?
Estimating the benefit of EU membership.
Monitoring macro factors affecting property markets: democracy, capitalism and world trade.
Chapter 5: Factors that Drive Property Yields and Returns.
Improvers of property prospects.
Events that limit property prospects.
Websites providing an ongoing appreciation of the factors that profoundly infl uence property prices.
Part 2: Pick a Country, Any Country.
Chapter 6: Evaluating Economies.
Eliminating unacceptable risk.
The death penalty and other serious sentences.
Country overviews.
Property blogs.
Online newspaper articles.
Economic performance and political stability.
Cost and standard of living.
Inward investment and business climate.
Corruption, crime and safety.
Chapter 7: Checking the Local Environment.
State healthcare.
Private healthcare: short term.
Private healthcare: long term.
Nursing homes and care of the elderly.
Online healthcare.
Education provision.
Pre–university education.
Higher education.
Chapter 8: Getting To and Fro.
Airport access.
Keeping tabs on flying options.
Train travel.
Information sources for train travel.
Coach and bus routes.
Overland voyage information sources.
Boats and ferries.
Sources of advice and information on sea travel.
Chapter 9: Money Matters.
Currency and exchanging money.
Help with currency matters.
Getting a mortgage for an overseas property.
Re–mortgage at home.
Using a UK or an international bank.
Trying the locals.
Guide to country–specific sources of finance.
Managed currency mortgages.
Managed currency specialists.
Banking for overseas transactions.
Anti–money laundering regulations.
Using a local bank.
Things to look out for in choosing a local bank.
Help with finding a safe overseas bank.
Offshore banking and tax havens.
Finding an offshore bank.
Banking online.
Finding an online banker.
Understanding the tax regime.
Rules on residency.
Doubling tax troubles.
General taxes (and inducements to invest).
Information sources on local taxation matters.
Wealth tax.
Organisations helping with managing wealth tax issues.
Inheritance tax, death duties and related issues.
Organisations helping to minimize post–death taxes.
Deciding how to structure the ownership of your overseas property tax and other considerations.
Organisations helping with deciding ownership vehicles.
Getting financial and tax advice.
Financial adviser associations and bodies.
Chapter 10: Researching the Legal Environment.
Visa and residence rules.
Sources of help and advice with visas and residency.
Working and setting up in business 190
Help and advice with working and setting up in business abroad.
Property title and foreign ownership rights.
Organisations and publications who provide information on foreign ownership rights.
Buying procedures, costs and restrictions.
Organisations offering information and advice.
on buying procedures and costs.
Chapter 11: Tourism Potential.
Old tourism versus affluent tourism.
Planning future tourist appeal.
Sources of information on tourism potential.
Medical tourism.
The case for medical tourism.
The risks.
Medical market segments.
Chapter 12: Property Performance and Appraisal: Narrowing Down your Choice of Country.
Price appraisers.
Sources of data on global property prices and yields.
Property exhibitions.
Property exhibitions in the United Kingdom.
Directory of major UK overseas property shows.
Finding a property exhibition abroad.
Sources of information on overseas property exhibitions.
Warning on property seminars.
Narrowing down your choice.
Part 3: Buying into a Country.
Chapter 13: Using an Estate Agent Broker Realtor.
Avoid introducers.
Looking for qualifications.
UK property professional associations.
International property professional associations and major brokerages.
International real estate companies.
Checking out brokers (and developers ) performance.
Sources of information concerning developers and broker performance.
Working with a house hunter.
Useful websites for locating house hunters.
Chapter 14: Finding a Property Yourself.
Reading papers and magazines.
Listing of UK newspapers and magazines with international properties.
Trawling the Internet.
Directory of major Internet international property websites.
Tackling the tourist office.
Attending auctions.
Sources of information on international property auctions.
Chapter 15: Finding a Lawyer.
Paying deposits.
Power of attorney.
Price declaration the ever present problem.
Proving title.
Sources of further information on property title issues.
The role of the notary.
Finding a lawyer.
International lawyer network organisations and other referral sources.
Chapter 16: Undertaking Surveys.
Types of survey.
Full structural survey.
Buyer survey.
Valuation survey.
Doing your own pre–survey.
Organisations to help in finding surveyors and carrying out survey estimates.
Chapter 17: Renting Before You Buy and Other Non–Ownership Options.
Reasons for trying before you buy.
Living in a hotel.
Bargain hotel breaks.
Websites for making efficient hotel (and travel) reservations.
Cutting a long–term hotel deal.
Organisations arranging long–term hotel stays.
Hostelling.
Help with finding a hostel.
Renting an apartment or house.
Help with finding apartments and houses to rent.
House sitting.
Organisations arranging house sitting.
Swapping homes.
Organisations arranging house swapping.
Legal and paperwork issues involved in using other people s properties.
Checking the agreement.
Taking the inventory.
Organisations helping with inventory matters.
Chapter 18: Climate Matters.
Climate and its effect on rental income and capital value.
Finding the facts about the sun, snow and general weather conditions.
Sources of information on general weather conditions.
Researching beaches and surf.
Websites for tracking beach and surf conditions.
Evaluating ski resources.
Organisations and publications informing on ski–ing matters.
Part 4: Settling In.
Chapter 19: Language Matters.
Engaging a translator.
Translating conversations.
Deciphering documents.
Assessing the costs of translations.
Organisations for help and advice with translations.
Learning the language.
Language teaching organisations and associations.
Organisations and websites to help with learning languages.
Using the immersion technique.
Chapter 20: Getting Around the Country.
Driving yourself.
Local driving regulations and road conditions helpful organisations.
Buses and taxis.
Bus and taxi travel options helpful organisations.
Urban mass transport (subway, underground, urban rail and tram networks).
Urban mass transport systems helpful organisations.
Boats and helicopter travel.
Sea and helicopter travel helpful organisations.
Internal airlines.
Internal air travel helpful organisations.
Chapter 21: Moving your Effects.
Local furnishing options.
Transporting furniture.
Finding a remover.
Organisations and websites to help with finding a remover.
Putting furniture into storage.
Organisations to help with putting furniture into storage.
Hiring furniture.
Organisations and websites to help with hiring furniture.
Taking pets abroad.
Getting pets home again.
Organisations and websites to help with and advice on moving pets around the world.
Taking your car abroad.
Organisations offering information and advice on moving vehicles abroad.
Which side of the road do they drive on?
General rules on importing domestic items.
An organisation providing customs information on transporting personal belongings overseas.
General rules on importing business items.
Organisations providing customs information on importing (and exporting) business assets.
Chapter 22: Renovating and Building.
Finding a building plot or ruin.
Websites to search for building plots and ruins.
Checking for planning permission and usage licence.
Preparing a rough costing for building work.
Websites that can help you estimate rough building works cost.
Engaging an architect and a builder.
Checking out architects qualifications.
Deciding on a builder.
Drawing up the building contract.
Organisations and websites for finding architects and builders.
Chapter 23: Going into the Rental Business.
Keeping on and letting out your current home.
The benefits of letting out your home property.
The dangers in letting out your home property.
Fitting out a property.
Longer–term rentals.
Renting long–term overseas.
Organisations to help with finding long–term tenants overseas.
Renting long–term in the UK.
Organisations to help with legal aspects of UK rentals.
Finding long–term tenants at home.
Organisations and websites for finding long–term tenants in the UK.
Holiday lets.
Finding holiday–let tenants at home.
Some British holiday rental websites.
Students in the UK home market.
Organisations who can assist with letting UK property to students.
Finding tenants for holiday lets overseas.
Using an agent.
Doing it yourself.
Organisations who can assist with overseas holiday lets.
Finding students for short–term rentals overseas.
Organisations who can help with letting.
accommodation to students overseas.
Accountancy, legal and administrative issues.
The rental agreement.
Help with preparing leases.
Insurance.
Some organisations specialising in insuring.
overseas properties.
Rent and security deposits.
Rent.
Deposits.
Taking the inventory.
Organisations who can help with taking inventories.
Book keeping and handling taxes.
Help with keeping the books.
Dealing with problem tenants.
Help in dealing with tenancy problems (UK only).
Chapter 24: Staying in Touch with Home.
Organisations that make staying in touch both possible and affordable.
Appendix: Overseas Property Visit Checklist.
Index.
Mensen die dit kochten, kochten ook...