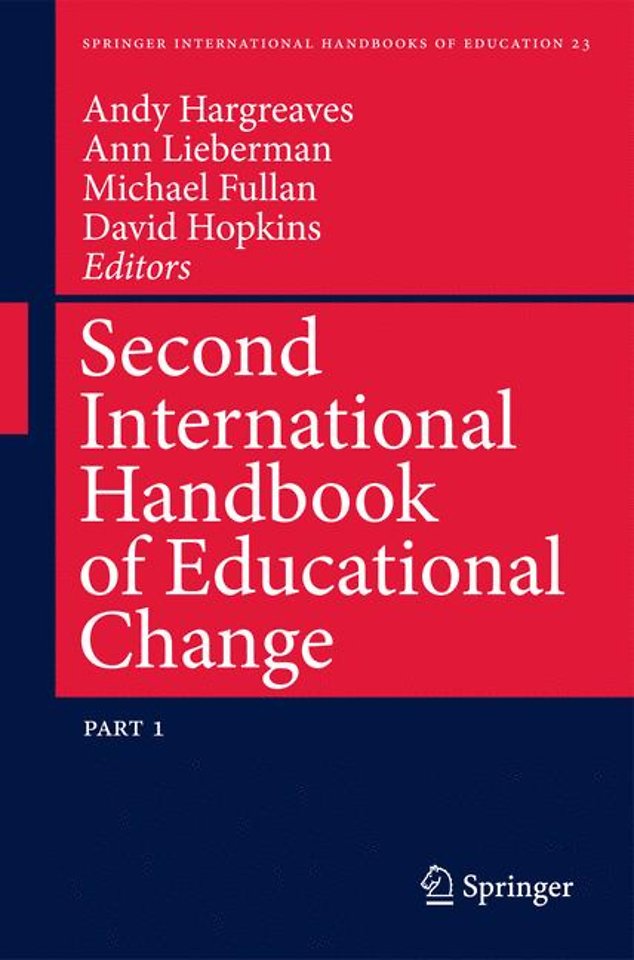 Samenvatting
The two volumes of the second edition of the International Handbook of Educational Change comprise a totally new, and updated collection of the most critical and cutting-edge ideas in educational change.
Written by the most influential thinkers in the field, these volumes cover educational change at both the theoretical and practical levels. The updated handbook remains connected to the classical concerns of the field, such as educational innovation, reform, and change management, and also offers new insights into educational change that have been brought about by social change and shifting contexts of educational reform. Like the first best selling Handbook, this one will also undoubtedly become an essential resource for people involved in all spheres of education, from classroom teachers, teacher leaders and administrators to educational researchers, curriculum developers, and university professors. No other work provides such a wide-ranging and comprehensive examination of the field of educational change.
Specificaties
Uitgever:
Springer Netherlands
Lezersrecensies
Wees de eerste die een lezersrecensie schrijft!
Inhoudsopgave
Theories of Change.- Better Schools Through Better Knowledge? New Understanding, New Uncertainty.- Innovation and Diffusion as a Theory of Change.- The Psychodynamics of Educational Change.- Moving Change: Evolutionary Perspectives on Educational Change.- A Temporary, Intermediary Organization at the Helm of Regional Education Reform: Lessons from the Bay Area School Reform Collaborative.- Change from Without: Lessons from Other Countries, Systems, and Sectors.- Positive Pressure.- Education for an Interdependent World: Developing Systems Citizens.- Social Movement Organizing and Equity-Focused Educational Change: Shifting the Zone of Mediation.- Community Organizing and Educational Change.- Recent Developments in the Field of Educational Leadership: The Challenge of Complexity.- Large-Scale Reform in the Era of Accountability: The System Role in Supporting Data-Driven Decision Making.- Teacher Emotions in the Context of Educational Reforms.- The Micropolitics of Educational Change and Reform: Cracking Open the Black Box.- Systemic Change.- How Government, Professions and Citizens Combine to Drive Successful Educational Change.- Educational Change and Demographic Change: Immigration and the Role of Educational Leadership.- Probing the Limits of Systemic Reform: The English Case.- How to Change 5,000 Schools.- Educational Change in Finland.- China as a Case Study of Systemic Educational Reform.- Educational Leadership in Racially Divided Communities.- Educational Change in Chile: Reform or Improvements? (1990–2007).- A Market for Knowledge?.- Marketization and Post-Marketization in Education.- Large-Scale Assessment for Accountability Purposes.- Digital Technologies and Educational Change.- Toward a Theory of Teacher Education for Social Justice.- Connecting Learning Communities: Capacity Building for Systemic Change.- International Comparisons of Student Learning Outcomes.- Teaching and Educational Transformation.- Levels of Change.- The Legacy of the School Effectiveness Research Tradition.- Professional Learning Communities at the Crossroads: How Systems Hinder or Engender Change.- New Teacher Induction and Mentoring for Educational Change.- Smart School Improvement: Towards Schools Learning from Their Best.- How Successful Leadership Influences Student Learning: The Second Installment of a Longer Story.- The Moral Character of Academic Learning: Challenging the Exclusivity of the Reigning Paradigm of School Learning.- Teacher Leadership: Developing the Conditions for Learning, Support, and Sustainability.- On Personalizing Learning and Reculturing Teaching in Large High School Conversions to Small Schools.- Improving Schools in Challenging Contexts.- Knowledge-Based Organizational Learning for Instructional Improvement.- Federations and System Leadership.- Every School a Great School – Realising the Potential of System Leadership.- School-Based Networking for Educational Change.- Travel of District-Wide Approaches to Instructional Improvement: How Can Districts Learn from One Another?.- Teaching, Learning and Change.- Involving Children and Young People in Educational Change: Possibilities and Challenges.- Adaptive People and Adaptive Systems: Issues of Learning and Design.- Changing Classroom Learning.- Making Sure that Every Child Matters: Enhancing Equity Within Education Systems.- Making Formative Assessment the Way the School Does Business: The Impact and Implications of Formative Assessment for Teachers, Students and School Leaders.- Self-Evaluation for School Improvement.- The Emerging Politics of Curriculum Reform: Technology, Knowledge, and Power in Homeschooling.- Supporting the Education and Care of Young Children: Putting into Practice What We Know.- Reforming Upper Secondary Education in England: A Necessary but Difficult Change.- Gender and Educational Change.- Class, Race, and Educational Achievement.- Blindness to Change Within Processes of Spectacular Change? What Do Educational Researchers Learn from Classroom Studies?.- School-Based Social and Emotional Learning (SEL) Programming: Current Perspectives.- To Seek, to Strive, to Find, and Not to Yield: A Look at Current Conceptions of Vision in Education.