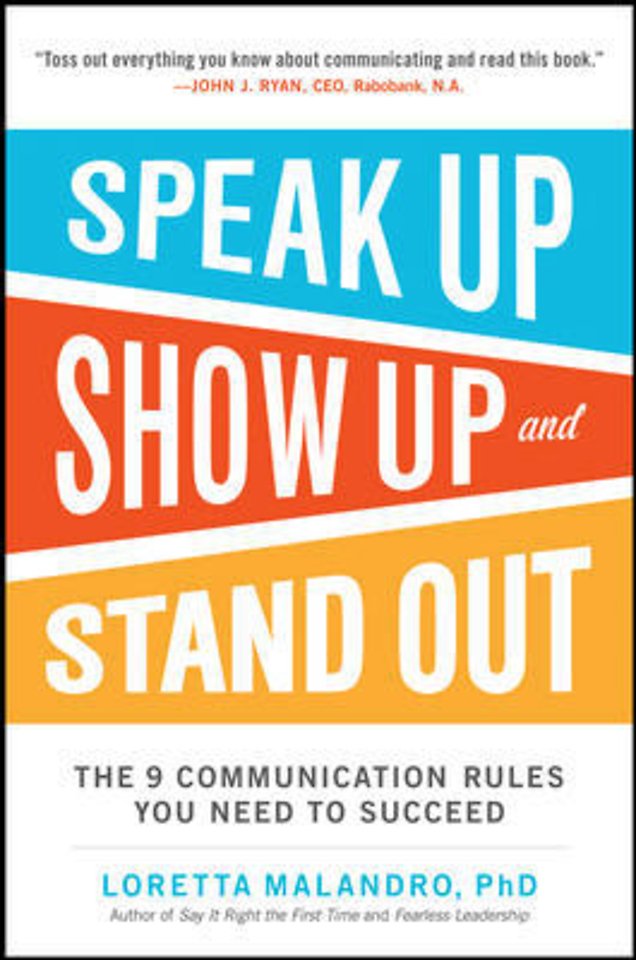 Loretta Malandro
Speak Up, Show Up, and Stand Out: The 9 Communication Rules You Need to Succeed
Paperback
Engels
2014
9780071837545
Verwachte levertijd ongeveer 10 werkdagen
Samenvatting
MASTER A NEW WAY OF COMMUNICATING TO BUILD INFLUENCE AND ACHIEVE UNPARALLELED SUCCESSSpeak Up, Show Up, and Stand Out provides the rules for exemplary business communication.
This lean and effective guide isn't just about choosing the right words; it's a whole new way of communicating to achieve unparalleled success. It offers the tools and skills readers need to build influence, deliver results, and significantly increase their communication effectiveness.
Specificaties
Verschijningsdatum:
16-12-2014
Lezersrecensies
Wees de eerste die een lezersrecensie schrijft!
Inhoudsopgave
FOREWORD BY JOHN J. RYAN, CEO, RABOBANK, N.A. ... vii
ACKNOWLEDGMENTS xi
WHAT THIS BOOK WILL DO FOR YOU xv

COMMUNICATION RULE 1: Be 100% Accountable—Rise Above Circumstances ... 1
Discover the remarkable system that puts you in control and gives you the power to overcome any barrier to your success and achieve much more.

COMMUNICATION RULE 2: Check Your Interpretation—Confront Your Assumptions ... 29
Uncover automatic and damaging habits, especially with electronic communication, and replace them with quick fixes for immediate increased effectiveness.

COMMUNICATION RULE 3: Make Expectations Clear—Don't Expect Others to Read Your Mind ... 59
Watch your productivity soar when you apply these simple techniques to cut out the constant confusion, disappointment, and wasted time that unclear expectations produce.

COMMUNICATION RULE 4: Create Positive Partnerships—Stop Negative Talk ... 81
Slash through negative talk around the office with new tools to enable you to step up when you hear complaining and criticism. Become known as a force for positive partnership.

COMMUNICATION RULE 5: Speak Up—Stop Holding Yourself Back ... 105
These easy-to-apply techniques for speaking up will build your confidence and get you out of your head and into the game. You'll be branded as a top contributor and influencer.

COMMUNICATION RULE 6: Commit or Do Not Commit—Don't Hedge ... 131
Make straightforward communication your calling card. Escape the state of limbo that others put you in by taking decisive action and extracting a clear-cut yes or no.

COMMUNICATION RULE 7: Own the Problem—Don't Blameor Make Excuses ... 153
Refuse to join the masses by blaming people and circumstances for your setbacks and frustrations. Use these valuable tips for getting out of victim mentality and gaining a reputation as an efficient problem solver.

COMMUNICATION RULE 8: Recover Quickly and Come BackStronger—Stop Defeating Yourself ... 181
Learn powerful strategies for transforming your mistakes into a new path forward and creating the future you want.

COMMUNICATION RULE 9: Be Precise—Avoid Word Traps ThatDerail You ... 209
Eliminate words and phrases that trap you, and make 50 easy language tweaks that instantly boost your credibility and build your relationships. It's all here in this quick-reference guide.
YOUR PATH FORWARD ... 243
THE 9 COMMUNICATION RULES YOU NEED TO SUCCEED ... 249
ABOUT LORETTA MALANDRO ... 251
ABOUT MALANDRO CONSULTING GROUP ... 253
HOW TO CONTACT MALANDRO CONSULTING GROUP ... 255
INDEX ... 257

Mensen die dit boek kochten, kochten ook...