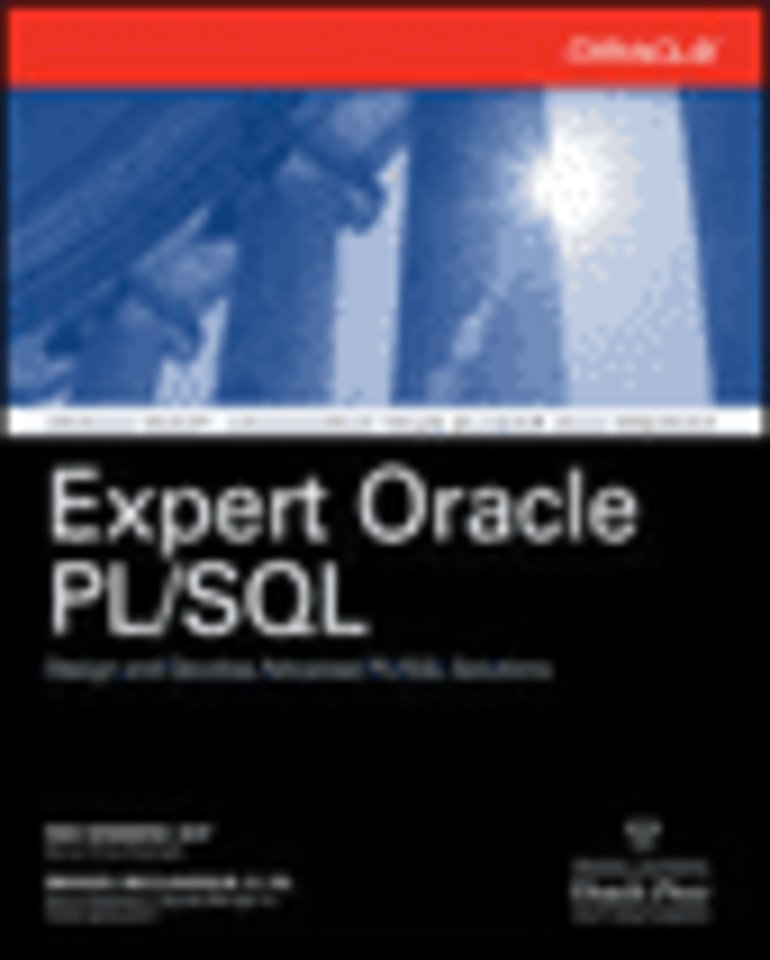 Ron Hardman, Michael McLaughlin
Expert Oracle PL/SQL
Design and develop advanced PL/SQL solutions
Paperback
Engels
2005
9780072261943
Verwachte levertijd ongeveer 8 werkdagen
Samenvatting
Create and debug next-generation, feature-rich PL/SQL applications
Push your PL/SQL programming skills to the next level with the extensive information contained in this volume. You'll learn how to write dynamic PL/SQL programs, interface with Oracle databases, execute complex calculations, and handle error conditions using advanced techniques. Plus, you'll get the latest on the PL/SQL Toolkit, Java integration, code threading, and performance optimizing. Oracle professionals Ron Hardman and Michael McLaughlin cover all the bases, providing real-world examples, undocumented tricks, syntax samples, and unique solutions for every topic.
- Compile high performance PL/SQL scripts using procedures, functions, packages and triggers
- Trap, trace, identify, and eliminate compile-time and runtime errors
- Manage error propagation, stacks, regular expressions, and metacharacters
- Exploit definer's-rights and invoker's-rights architectures
- Extend PL/SQL functionality using server-side and internal Java class libraries
- Build and run parallel PL/SQL program units using DBMS_JOB and DBMS_PIPE
- Exploit definer's-rights and invoker's-rights architectures
- Tune performance using statistics gathering, the PL/SQL optimizer, SQL Trace, DBMS_STATS, and TKPROF
- Use Oracle Text with PL/SQL Server Pages to perform theme/gist extraction, highlighting, stemming, fuzzy, and wildcard searching
- Administer server-side PL/SQL Toolkit web pages and PL/SQL Server Pages
- Secure, encrypt, and transmit data using DBMS_CRYPTO, UTL_COMPRESS, DBMS_DATAPUMP, and DBMS_FILE_TRANSFER
Lezersrecensies
Wees de eerste die een lezersrecensie schrijft!
Inhoudsopgave
Part 1: Advanced concept, internals, and debugging concepts
1. Introduction to advanced concepts, patterns, and techniques
2. PL/SQL internals
3. Debugging PL/SQL applications

Part 2: Invoker's rights, Java libraries, and Object Patterns
4. Invoker's-Rights architecture
5. Extending PL/SQL with Java libraries
6. Implementing PL/SQL objects

Part 3: Optimizing PL/SQL solutions
7. Threading PL?SQL execution
8. High performance PL/SQL

Part 4: Text management using PL/SQL
9. Introduction to information Retrieval
10. Introduction to regular expressions

Part 5: PL/SQL server pages and database management
11. Leveraging the PL/SQL toolkit
12. Managing the Database

Part 6: PL/SQL server pages and database management
A: Regular expression metacharacters and functions
B: Oracle text supplied packages
C: PL/SQL web toolkit packages
D: Basic primer on Java and Java database connectivity (JDBC)

Index
Mensen die dit boek kochten, kochten ook...