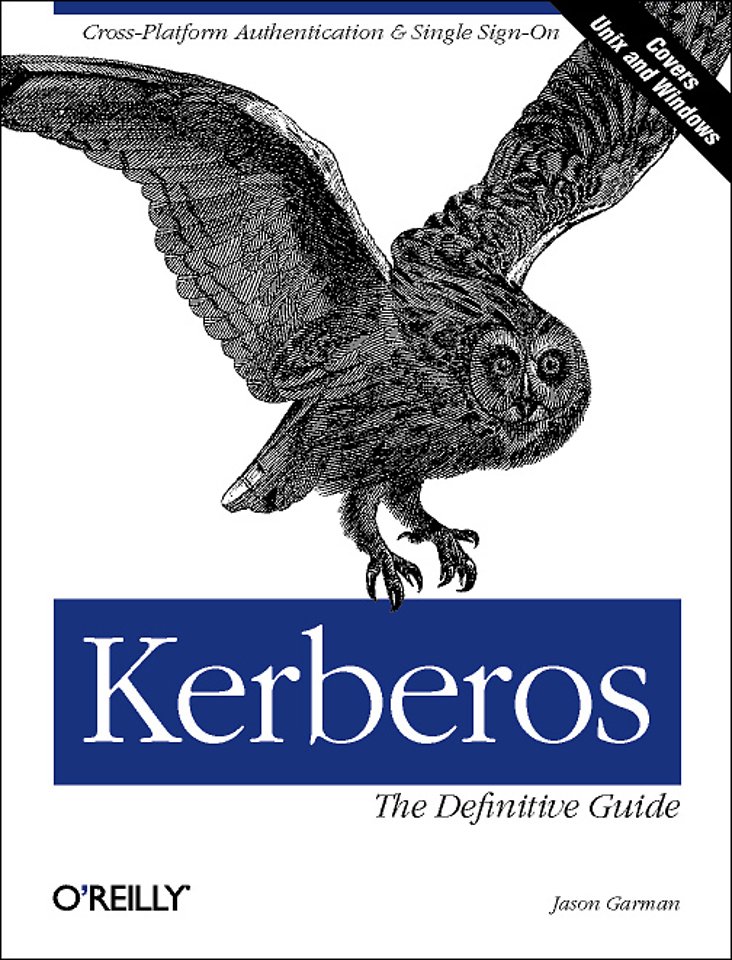 Jason Garman
Kerberos: The Definitive Guide
Covers Unix & Windows
Paperback
Engels
2003
9780596004033
Verwachte levertijd ongeveer 8 werkdagen
Samenvatting
Kerberos, the single sign-on authentication system originally developed at MIT, deserves its name. It's a faithful watchdog that keeps intruders out of your networks. But it has been equally fierce to system administrators, for whom the complexity of Kerberos is legendary.
Single sign-on is the holy grail of network administration, and Kerberos is the only game in town. Microsoft, by integrating Kerberos into Active Directory in Windows 2000 and 2003, has extended the reach of Kerberos to all networks large or small. Kerberos makes your network more secure and more convenient for users by providing a single authentication system that works across the entire network. One username; one password; one login is all you need.
Fortunately, help for administrators is on the way. Kerberos: The Definitive Guide shows you how to implement Kerberos for secure authentication. In addition to covering the basic principles behind cryptographic authentication, it covers everything from basic installation to advanced topics like cross-realm authentication, defending against attacks on Kerberos, and troubleshooting.
In addition to covering Microsoft's Active Directory implementation, 'Kerberos: The Definitive Guide' covers both major implementations of Kerberos for Unix and Linux: MIT and Heimdal. It shows you how to set up Mac OS X as a Kerberos client. The book also covers both versions of the Kerberos protocol that are still in use: Kerberos 4 (now obsolete) and Kerberos 5, paying special attention to the integration between the different protocols, and between Unix and Windows implementations.
If you've been avoiding Kerberos because it's confusing and poorly documented, it's time to get on board! This book shows you how to put Kerberos authentication to work on your Windows and Unix systems.
Lezersrecensies
Wees de eerste die een lezersrecensie schrijft!
Inhoudsopgave
Preface

1. Introduction
Origins
What Is Kerberos?
Goals
Evolution
Other Products

2. Pieces of the Puzzle
The Three As
Directories
Privacy and Integrity
Kerberos Terminology and Concepts
Putting the Pieces Together

3. Protocols
The Needham-Schroeder Protocol
Kerberos 4
Kerberos 5
The Alphabet Soup of Kerberos-Related Protocols

4. Implementation
The Basic Steps
Planning Your Installation
Before You Begin
KDC Installation
DNS and Kerberos
Client and Application Server Installation

5. Troubleshooting
A Quick Decision Tree
Debugging Tools
Errors and Solutions

6. Security
Kerberos Attacks
Protocol Security Issues
Security Solutions
Protecting Your KDC
Firewalls, NAT, and Kerberos
Auditing

7. Applications
What Does Kerberos Support Mean?
Services and Keytabs
Transparent Kerberos Login with PAM
Mac OS X and the Login Window
Kerberos and Web-Based Applications
The Simple Authentication and Security Layer (SASL)
Kerberos-Enabled Server Packages
Kerberos-Enabled Client Packages
More Kerberos-Enabled Packages

8. Advanced Topics
Cross-Realm Authentication
Using Kerberos 4 Services with Kerberos 5
Windows Issues
Windows and Unix Interoperability

9. Case Study
The Organization
Planning
Implementation

10. Kerberos Futures
Public Key Extensions
Smart Cards
Better Encryption
Kerberos Referrals
Web Services

Appendix: Administration Reference

Index
Mensen die dit boek kochten, kochten ook...