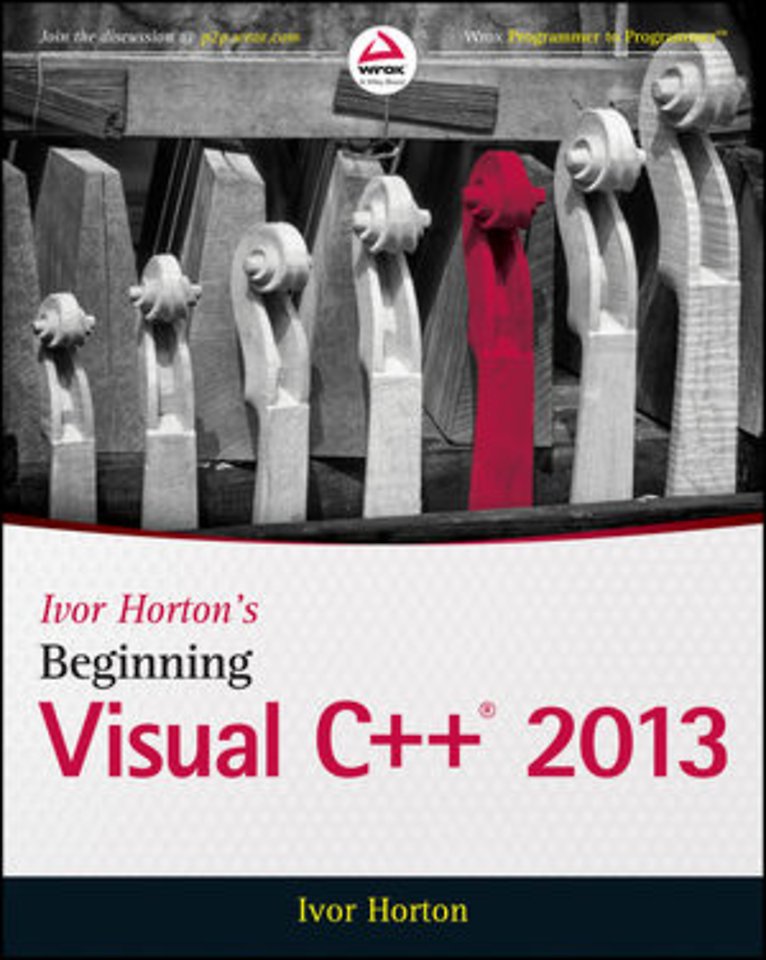 Ivor Horton
Ivor Horton's Beginning Visual C++ 2013
Paperback
Engels
2014
9781118845714
Verwachte levertijd ongeveer 8 werkdagen
Samenvatting
Learn C++ Programming and Visual C++ 2013-the faster, easier way
This latest edition of the bestselling book on the C++ language follows the proven approach that has made all of Ivor Hortons C++ books so popular. Horton provides a comprehensive introduction to both the Standard C++ language, and to Visual C++. The book-thoroughly updated for the 2013 release-shows readers how to build real–world applications using Visual C++. No previous programming experience is required. The author uses numerous step–by–step programming examples to guide readers through the ins and outs of C++ development.
Ivor Hortons Beginning Visual C++ 2013:
- Introduces basic C++ programming concepts and the main ideas embodied in the Visual C++ development environment
- Explains the C++ language from simple procedural programs to classes and object–oriented programming
- Demonstrates how to apply the Standard Template Library (STL) in a wide range of contexts
- Reveals the essential elements present in every Windows desktop application
- Shows how to write Windows applications using the MFC for building a graphical user interface
- Shows how you develop Windows Store apps through a working example of a game that executes under Windows 8
Wrox Beginning guides are crafted to make learning-programming languages and technologies easier than you think, providing a structured, tutorial format that will guide you through all the techniques involved.
- Programmer Forums
Join our Programmer to Programmer forums to ask and answer programming questions about this book, join discussions on the hottest topics in the industry, and connect with fellow programmers from around the world.
- Code Downloads
Take advantage of free code samples from this book, as well as code samples from hundreds of other books, all ready to use.
- Read More
Find articles, e–books, sample chapters and tables of contents for hundreds of books, and more reference resources on programming topics that matter to you.
Specificaties
Verschijningsdatum:
10-6-2014
Lezersrecensies
Wees de eerste die een lezersrecensie schrijft!
Inhoudsopgave
Introduction

1. Programming with Visual C++
2. Data, Variables, and Calculations
3. Decisions and Loops
4. Arrays, Strings, and Pointers
5. Introducing Structure into Your Programs
6. More about Program Structure
7. Defining Your Own Data Types
8. More on Classes
9. Class Inheritance and Virtual Functions
10. The Standard Template Library
11. Windows Programming Concepts
12. Windows Programming with the Microsoft Foundation Classes (MF C)
13. Working with Menus and Toolbars
14. Drawing in a Windows
15. Improving the View
16. Working with Dialogs and Controls
17. Storing and Printing Documents
18. Programming for Windows 8

Index
Mensen die dit boek kochten, kochten ook...