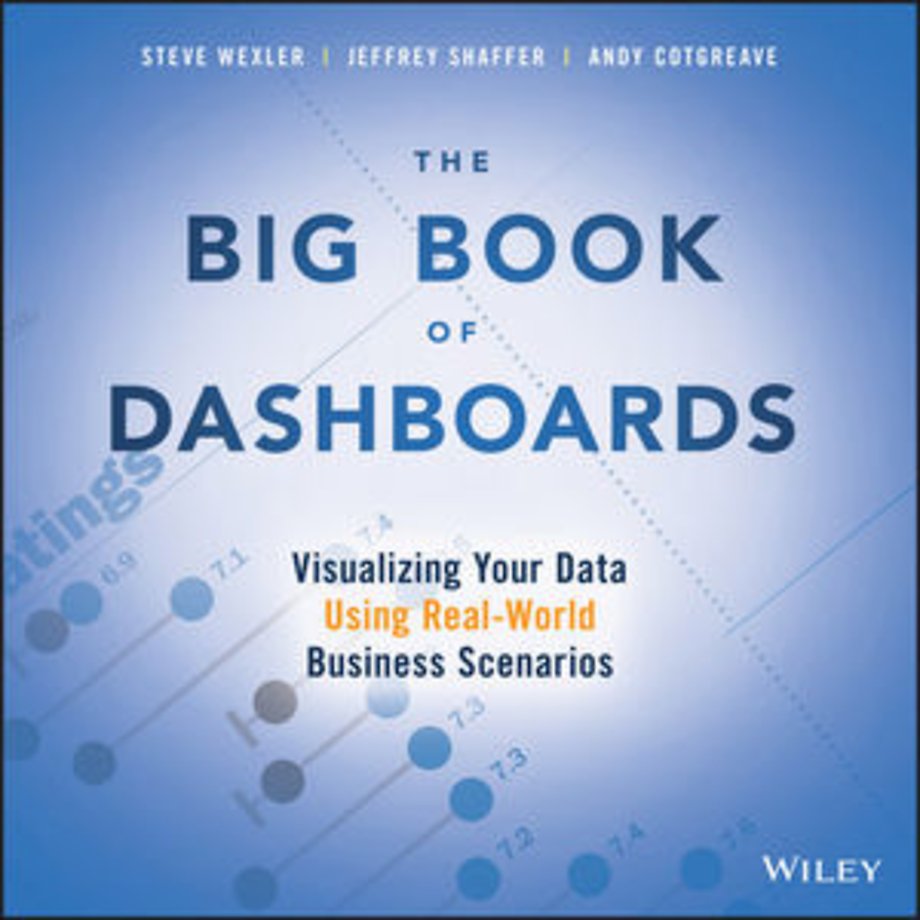 Steve Wexler, Jeffrey Shaffer, Andy Cotgreave
The Big Book of Dashboards
Visualizing Your Data Using Real–World Business Scenarios
Paperback
Engels
2017
9781119282716
Verwachte levertijd ongeveer 8 werkdagen
Samenvatting
The definitive reference book with real-world solutions you won't find anywhere else
'The Big Book of Dashboards' presents a comprehensive reference for those tasked with building or overseeing the development of business dashboards.
Comprising dozens of examples that address different industries and departments (healthcare, transportation, finance, human resources, marketing, customer service, sports, etc.) and different platforms (print, desktop, tablet, smartphone, and conference room display) The Big Book of Dashboards is the only book that matches great dashboards with real-world business scenarios.
By organizing the book based on these scenarios and offering practical and effective visualization examples, The Big Book of Dashboards will be the trusted resource that you open when you need to build an effective business dashboard.
In addition to the scenarios there's an entire section of the book that is devoted to addressing many practical and psychological factors you will encounter in your work. It's great to have theory and evidenced-based research at your disposal, but what will you do when somebody asks you to make your dashboard 'cooler' by adding packed bubbles and donut charts?
The expert authors have a combined 30-plus years of hands-on experience helping people in hundreds of organizations build effective visualizations. They have fought many 'best practices' battles and having endured bring an uncommon empathy to help you, the reader of this book, survive and thrive in the data visualization world.
A well-designed dashboard can point out risks, opportunities, and more; but common challenges and misconceptions can make your dashboard useless at best, and misleading at worst. The Big Book of Dashboards gives you the tools, guidance, and models you need to produce great dashboards that inform, enlighten, and engage.
Specificaties
Verschijningsdatum:
2-6-2017
Lezersrecensies
Wees de eerste die een lezersrecensie schrijft!
Inhoudsopgave
Acknowledgments vii
About the Authors ix
Introduction xi

Part I: A Strong Foundation
1. Data Visualization: A Primer 2

Part II: The Scenarios
2. Course Metrics Dashboard 38
3. Comparing Individual Performance with Peers 48
4. What–If Analysis: Wage Increase Ramifications 62
5. Executive Sales Dashboard 70
6. Ranking by Now, Comparing with Then 80
7. Are We on Pace to Reach Our Goals? 92
8. Multiple Key Performance Metrics 98
9. Power Plant Operations Monitoring 106
10. Showing Year–to–Date and Year–over–Year at the Same Time 118
11. Premier League Player Performance Metrics 130
12. RBS 6 Nations Championship Match Performance Analysis 138
13. Web Analytics 146
14. Patient History Analysis of Recent Hospital Admissions 156
15. Hospitality Dashboard for Hotel Management 164
16. Sentiment Analysis: Showing Overall Distribution 174
17. Showing Sentiment with Net Promoter Score 186
18. Server Process Monitoring 202
19. Big Mac Index 210
20. Complaints Dashboard 224
21. Hospital Operating Room Utilization 236
22. Showing Rank and Magnitude 246
23. Measuring Claims across Multiple Measures and Dimensions 258
24. Showing Churn or Turnover 268
25. Showing Actual versus Potential Utilization 282
26. Health Care Provider Productivity Monitoring 294
27. Telecom Operator Executive Dashboard 306
28. Economy at a Glance 316
29. Call Center 328

Part III: Succeeding in the Real World
30. Want to Engage People? Make Your Dashboards Personal 338
31. Visualizing Time 352
32. Beware the Dead–End Dashboard 382
33. The Allure of Red and Green 390
34. The Allure of Pies and Donuts 396
35. Clouds and Bubbles 404
36. A Journey into the Unknown 410

Glossary 419
Bibliography 423
Index 425
Mensen die dit boek kochten, kochten ook...