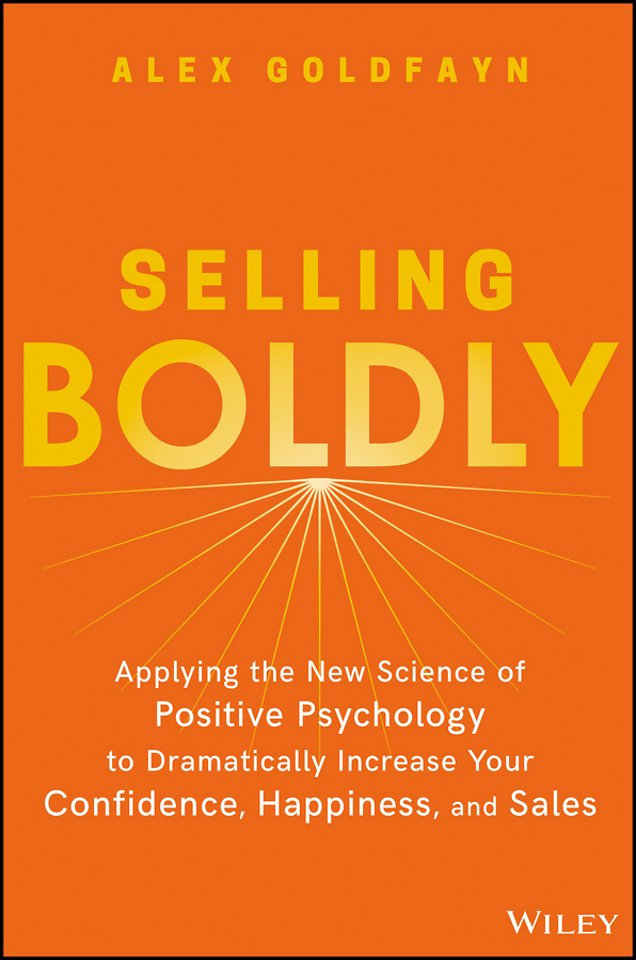 Alex Goldfayn
Selling Boldly
Applying the New Science of Positive Psychology to Dramatically Increase Your Confidence, Happiness, and Sales
Gebonden
Engels
2018
9781119436331
Verwachte levertijd ongeveer 8 werkdagen
Samenvatting
WALL STREET JOURNAL BESTSELLER!
IF YOU′RE IN SALES, FEAR HAS COST YOU MILLIONS OF DOLLARS, AND THIS BOOK IS FOR YOU.
Fear is the reason most salespeople don t like to pick up the phone (salespeople average just four hours per week on the phone, and our job is to talk to humans!).
Fear is the reason we don′t ask for the business more, even though our customers want to buy from us.
Fear is the reason we don t offer our customers additional products and services, even though they would love to buy more from us.
This book deals with that fear.
You will learn exactly how to overcome this destructive fear in sales, and replace it with confidence, optimism, gratitude, joy, and proactive sales work. These are the powerful principles in the new field of positive psychology which are transforming how we work and succeed. Selling Boldly is the first book that leverages positive psychology to help you sell more.
You′ll also learn a series of fast, simple sales–growth techniques like how to add on to existing orders; and how to close 20% more quotes and proposals instantly; and how to properly ask for and receive referrals that will grow your sales dramatically and quickly.
Alex Goldfayn′s clients grow their sales by 10–20% annually, every year, as long as they apply his simple approaches.
YOU ALREADY KNOW WHAT TO DO
I am not going to teach you much in this book that you don t already know.
You′re a professional salesperson. You do this for a living. You know, for example, that testimonials and referrals are among the best ways we have to grow sales, right? But do you ask for them enough? Most people don t.
You know that calling a customer on the phone is more effective than emailing her, but you still often revert to email.
You know your customers buy other products and services that you can help them with, but you don′t ask them about these products. You d like to help them, and they would like more of your help that is why they′ve been with you for five or ten or twenty years but nevertheless we don t ask them.
There is a difference between knowing what to do, and actually doing it.
I know you know.
With Selling Boldly, we start to do what we already know. We will cover what keeps us from doing these things (fear), how to overcome it (by listening to your happy customers), and how to implement these simple but powerful sales growth techniques (by briefly planning them, also doing them).
Because sales growth comes from doing, not knowing.
Today, we start doing.
And growing.
These approaches are laid out in this book, in precise detail, for you to implement in your own work.
Alex doesn t hold anything back in this manual for selling more.
What′s the secret to selling more?
There is no secret.
There is no magic bullet.
There is only the work.
There are only the mindsets, and the communications.
In Selling Boldly, Alex teaches readers how to attain these mindsets, and how to implement these communications, so that sales have no choice but to grow!
Specificaties
Verschijningsdatum:
11-5-2018
Lezersrecensies
Wees de eerste die een lezersrecensie schrijft!
Inhoudsopgave
About the Author xi

PART I Fear Is the Greatest Enemy of Sales . . . and Positive Psychology Is the Antidote 1
Chapter 1 The Single Greatest Killer of Sales 3
Chapter 2 The Massive Cost of Fear in Sales 11
Chapter 3 The Antidote to Fear: The New Science of Positive Psychology 23
Chapter 4 The Selling Boldly System: Step 1 Get Your Mindset Right; Step 2 Behave Accordingly (Communicate Boldly) 31
Chapter 5 The Selling Boldly Toolkit: Planners and Downloads 39

PART II The 10 Critical Mindset Shifts for Dramatic Sales Growth 49
Chapter 6 About These Critical Thinking Shifts 51
Chapter 7 Proactive Selling versus Reactive Selling 59
Chapter 8 Confidence versus Fear 69
Chapter 9 Boldness versus Meekness 73
Chapter 10 Optimism versus Pessimism 79
Chapter 11 Gratitude versus Cynicism 85
Chapter 12 Perseverance versus Surrender 91
Chapter 13 Value and Relationship versus Products and Services 99
Chapter 14 Taking Constant Communication Action versus Overplanning and Underexecuting 103
Chapter 15 Making It Look Easy versus Laboring 107
Chapter 16 Plan–Driven versus Inquiry–Driven 111

PART III How to Develop the Selling Boldly Mindset 115
Chapter 17 Why Feedback from Happy Customers Is the Key to Developing the Selling Boldly Mindset 117
Chapter 18 How to Get Testimonials from Your Happy Customers 123
Chapter 19 Transcript of Actual Customer Interviews 139
Chapter 20 How to Use Testimonials Internally to Change Your Mindset and Your Culture 147

PART IV From Mindset to Technique: Powerful Sales Growth Actions 151
Chapter 21 About These Communications 153
Chapter 22 Focus on What You Can Control 163
Chapter 23 Silence Is Money 167
Chapter 24 Don t Forget about the Prospects 171
Chapter 25 Use the Phone Proactively 175
Chapter 26 Always Ask for the Business 191
Chapter 27 Tell Your Customers What Else They Can Buy from You 197
Chapter 28 Let Your Customers Tell You What Else They Buy 205
Chapter 29 Following Up Will Make You Rich 209
Chapter 30 Sell with Your Testimonials: Show Your Prospects How Happy Your Customers Are 213
Chapter 31 What Percent of Your Business Do We Have? 221
Chapter 32 People Love Giving Referrals ButWe Hate Asking 225
Chapter 33 The Power of Handwritten Notes 233
Chapter 34 The Post–Delivery Call 237
Chapter 35 Putting It All Together with the The One–Page Sales Planner 239
Chapter 36 For Owners, CEOs, Executives, and Managers: This Is How to Implement Selling Boldly at Your Company 243
Chapter 37 Now, Go Help More People More 251
Acknowledgments 253
Appendix: 100 Questions to Ask Your Customers and Prospects (and Yourself) 255
Index 265

Mensen die dit boek kochten, kochten ook...