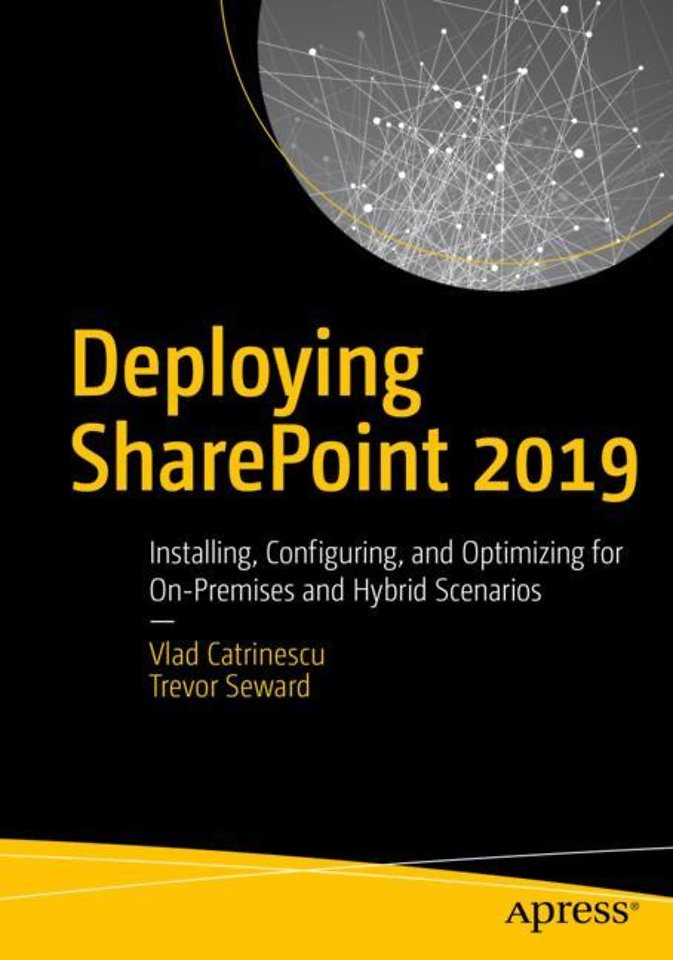 Vlad Catrinescu, Trevor Seward
Deploying SharePoint 2019
Installing, Configuring, and Optimizing for On-Premises and Hybrid Scenarios
Paperback
Engels
2019
9781484245255
Verwachte levertijd ongeveer 8 werkdagen
Samenvatting
Update to a version of SharePoint that offers the best of both on-premise and the cloud using SharePoint 2019, the latest release of this cornerstone technology from Microsoft. Don your technical learning hat to get up close and confident on the new time-saving modern features of on-premise, and the many new security and hybrid settings.Deploying SharePoint 2019 begins with a general introduction to SharePoint 2019, covering new features and expanding your knowledge and capability with the technology systematically.
You will learn about the new world of SharePoint, and how it was "cloud-born" from Office 365. From there you will dive into learning how to design a physical architecture for SharePoint Server 2019 and get familiar with the key concepts of high availability (HA) and disaster recovery (DR) solutions.
What You'll Learn
- Install, configure, and optimize SharePoint 2019
- Understand SharePoint 2019 as a hybrid framework
- Get comfortable with new tools, such as Flow, PowerApps, and Power BI
- Configure systems connected to SharePoint, such as Office Online Server and Workflow Manager
- Migrate content and service databases from previous versions of SharePoint to SharePoint 2019
- Implement HA and DR topologies with SharePoint 2019 to satisfy business continuity requirements
Who This Book Is For
Those tasked with installing, configuring, and maintaining SharePoint Server 2019 for their organization. This book assumes some working knowledge of a previous release of SharePoint Server, such as SharePoint 2013 or SharePoint 2016.
Specificaties
Verschijningsdatum:
22-5-2019
Lezersrecensies
Wees de eerste die een lezersrecensie schrijft!
Inhoudsopgave
1. Introduction to SharePoint 2019
2. Designing a Physical Architecture
3. Installing SharePoint Server 2019
4. Configuring Authentication and Security
5. Configuring Add-ins
6. Configuring the Search Service Application
7. Configuring the User Profile Service
8. Configuring Productivity Service Applications
9. Configuring Office Online Server for SharePoint 2019
10. Workflow Manager
11. SharePoint and Exchange Integration
12. Business Intelligence with SharePoint 2019
13. Creating Web Applications and Site Collections
14. Hybrid Scenarios
15. PowerApps and Flow
16. Migrating to SharePoint Server 2019
17. Implementing High Availability and Disaster Recovery
18. Patching SharePoint Server 2019
19. Monitoring and Maintaining a SharePoint 2019 Deployment
Mensen die dit boek kochten, kochten ook...