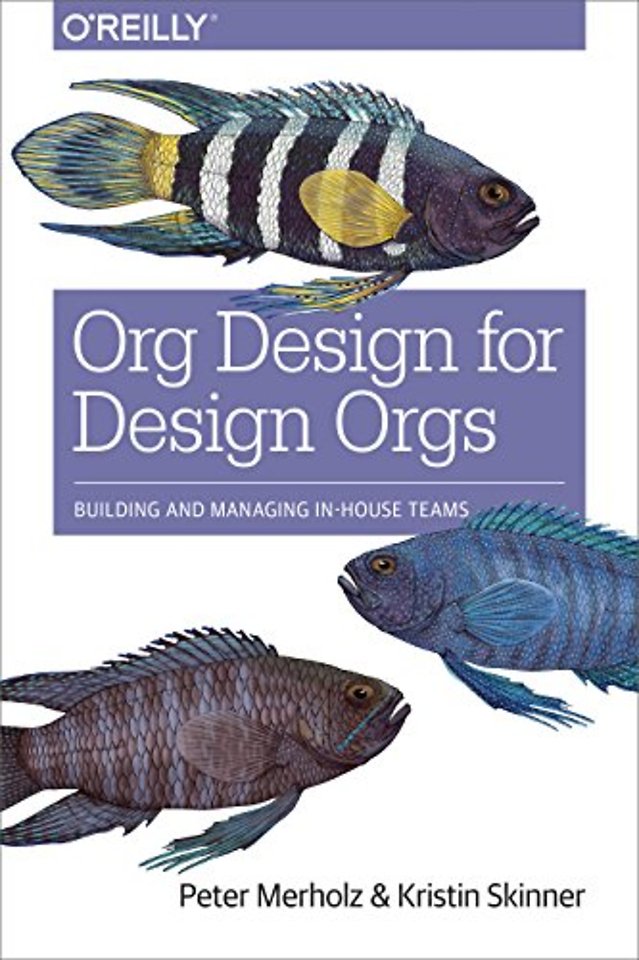 Peter Merholz, Kristin Skinner
Org Design for Design Orgs
Building and Managing In-house Teams
Paperback
Engels
2016
9781491938409
Verwachte levertijd ongeveer 8 werkdagen
Samenvatting
Design has become the key link between users and today's complex and rapidly evolving digital experiences, and designers are starting to be included in strategic conversations about the products and services that enterprises ultimately deliver. This has led to companies building in-house digital/experience design teams at unprecedented rates, but many of them don't understand how to get the most out of their investment. This practical guide provides guidelines for creating and leading design teams within your organization, and explores ways to use design as part of broader strategic planning.
You'll discover:
- Why design's role has evolved in the digital age
- How to infuse design into every product and service experience
- The 12 qualities of effective design organizations
- How to structure your design team through a Centralized Partnership
- Design team roles and evolution
- The process of recruiting and hiring designers
- How to manage your design team and promote professional growth
Specificaties
Verschijningsdatum:
1-1-2016
Lezersrecensies
Wees de eerste die een lezersrecensie schrijft!
Inhoudsopgave
Preface

1. Why Design? Why Now?
-"The Power of Design"
-"Software Is Eating the World"
-The Consumerization of All Software
-Everything-as-a-Service
-Double-Edged Sword of User Empowerment
-Design Can Be So Much More Than "Problem Solving"

2. Realizing the Potential of Design
-All Design Is Service Design
-The Double Diamond
-Bringing Design In-House
-The Three-Legged Stool

3. 12 Qualities of Effective Design Organizations
-Foundation
-Output
-Management
-Our Humanistic Agenda

4. The Centralized Partnership
-Organizational Models for Design Teams
-Centralized Partnership: The Best of Both Worlds
-Where Does the Design Organization Report?

5. Roles and Team Composition
-Individual Contributors
-Design Leadership
-Five Stages of Design Organization Evolution

6. Recruiting and Hiring
-Establishing Headcount
-Recruiting
-The Candidate Review Process
-Making the Hire Decision
-Extending the Offer
-It's Not a Sprint, It's a Marathon

7. Developing the Team: Professional Growth and Managing People
-Levels Framework for Designers
-The Manager Path
-Design Community Participation and Leadership
-Investing in Professional Development
-Growth Through the Organization
-Climbing the Corporate Trellis

8. Creating a Design Culture
-The Elements of Culture
-Values
-Environment
-Activities
-Spreading Culture

9. Successful Interaction with Other Disciplines
-Phase 1: Achievable
-Phase 2: Sustainable
-Phase 3: Impactful
-Conclusion

10. Parting Thoughts
-The Untapped Opportunity for Design
-Keep Design Weird
-Beyond Features and into a World of Experience

Appendix A: About the Authors
Appendix B: O'Reilly: Org Design for Design Orgs

Index
Mensen die dit boek kochten, kochten ook...