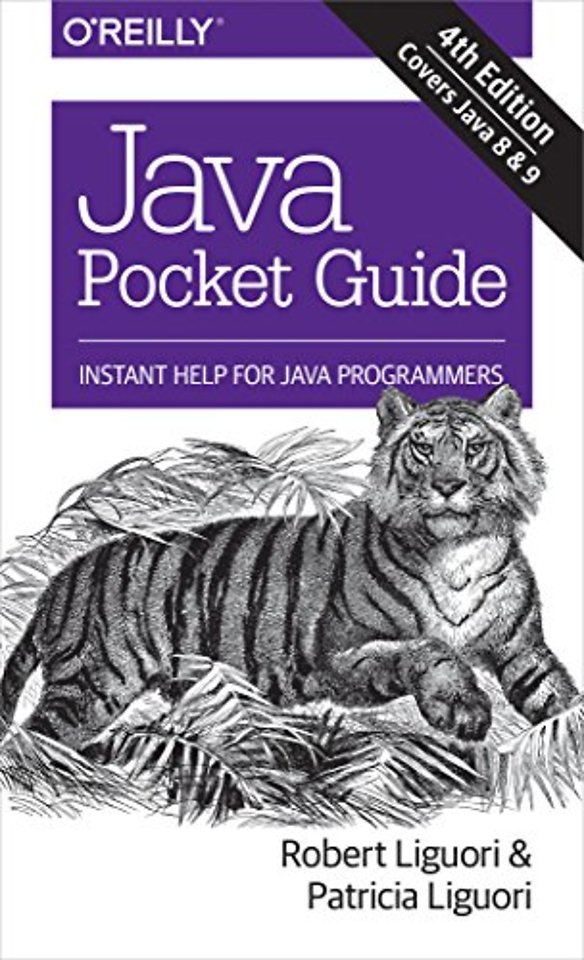 Robert Liguori, Patricia Liguori
Java Pocket Guide
Instant Help for Java Programmers (Covers Java 8 & 9)
Paperback
Engels
2017
9781491938690
Verwachte levertijd ongeveer 8 werkdagen
Samenvatting
Any time you need quick answers for developing or debugging Java programs, this pocket guide is the ideal reference to standard features of the Java programming language and its platform. You'll find helpful programming examples, tables, figures, and lists fast—including Java 9 features such as modular source code and the new JShell interactive command-line REPL. It's a handy companion, whether you're in the office, in the lab, or on the road.
This book also provides material to help you prepare for the Oracle Certified Associate Java Programmer exam.
- Quickly find Java language details, such as naming conventions, types, statements and blocks, and object-oriented programming
- Get details on the Java SE platform, including development basics, memory management, concurrency, and generics
- Use new features in Java 9, including modular source code and JShell
- Browse through information on basic input/output, NIO 2.0, the Java collections framework, and the Java Scripting API
- Get supplemental references to fluent APIs, third-party tools, and basics of the Unified Modeling Language (UML)
Specificaties
Verschijningsdatum:
30-9-2017
Lezersrecensies
Wees de eerste die een lezersrecensie schrijft!
Inhoudsopgave
Preface

Part 1: Language
1. Naming conventions
2. Lexical Elements
3. Fundamental Types
4. Reference Types
5. Object-Oriented Programming
6. Statement and Blocks
7. Exception handling
8. Java Modifiers

Part 2: Platform
9. Java Platform, SE
10. Development Basics
11. Memory Management
12. Basic Input and Output
13. New I/O API (NIO.2)
14. Concurrency
15. Java Collections Framework
16. Generics Framework
17. The Java Scripting API
18. Data and Time API
19. Lambda Expressions
20. JShell: the Java Shell
21. Java Module System

Part 3: Appendixes
A: Fluent APIs
B: Third-Party Tools
C: UML Basics

Index
Mensen die dit boek kochten, kochten ook...