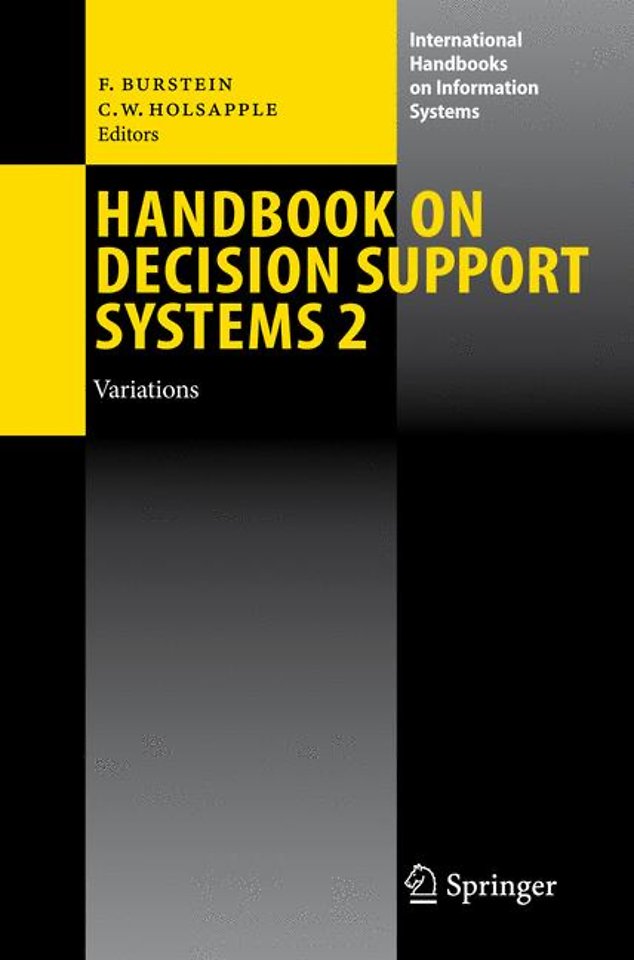 Frada Burstein, Clyde W. Holsapple
Handbook on Decision Support Systems 2
Variations
Paperback
Engels
2016
9783662501016
Verwachte levertijd ongeveer 8 werkdagen
Samenvatting
As the most comprehensive reference work dealing with decision support systems (DSS), this book is essential for the library of every DSS practitioner, researcher, and educator. Written by an international array of DSS luminaries, it contains more than 70 chapters that approach decision support systems from a wide variety of perspectives. These range from classic foundations to cutting-edge thought, informative to provocative, theoretical to practical, historical to futuristic, human to technological, and operational to strategic. The chapters are conveniently organized into ten major sections that novices and experts alike will refer to for years to come.
Specificaties
Uitgever:
Springer Berlin Heidelberg
Lezersrecensies
Wees de eerste die een lezersrecensie schrijft!
Inhoudsopgave
Time and space issues for decision Support.- Decision Support in Turbulent and High-Velocity Environments.- Supporting Decisions in Real-Time Enterprises: Autonomic Supply Chain Systems.- Decision Support for Emergency Situations.- Geographic Information and Analysis for Decision Support.- Support for Real-Time Decision Making in Mobile Financial Applications.- Context-Sensitive Decision Support Systems in Road Safety.- Scopes of Decision Support.- Personal Decision Support Systems.- Developing Practical Decision Support Tools Using Dashboards of Information.- Business Intelligence.- Competitive Intelligence Systems.- Process-Based Decision Support.- A Framework for Supporting Decisions in a Global Context – The Case of a Global DSS for Financial Planning.- Developing and Managing Decision Support Systems.- On the Design Features of Decision Support Systems: The Role of System Restrictiveness and Decisional Guidance.- DSS Systems Analysis and Design: The Role of the Analyst as Change Agent.- Evaluation of Decision Support Systems.- Planning a Portfolio of Decision Support Systems.- Decision Support System Evolution: Predicting, Facilitating, and Managing Knowledge Evolution.- Decision Support Cases and Application.- Systems for Supporting Operations Management Decisions.- Systems for Supporting Marketing Decisions.- Financial DSS: Systems for Supporting Investment Decisions.- Flying High with Real-Time Business Intelligence.- Decision Support for Security: A Mixed Reality Approach to Bioterror Preparedness and Response.- DSS in Healthcare: Advances and Opportunities.- Decision Support Systems in Forest Management.- DSS Experiences in South America.- DSS Experience in Africa – Cases from Egypt.- Evolution of Knowledge Management Towards Enterprise Decision Support: The Case of KPMG.- Decision Support Horizons.- Compositional Enterprise Modeling and Decision Support.- Information Technology Support for Inquiring Organizations.- Towards Decision Support for Participatory Democracy.- The Internet and DSS – Massive, Real-Time Data Availability Is Changing the DSS Landscape.- Information Visualization for Decision Support.- The Decision Hedgehog for Creative Decision Making.- Creativity Support Systems.- Systems for Strategic Learning.