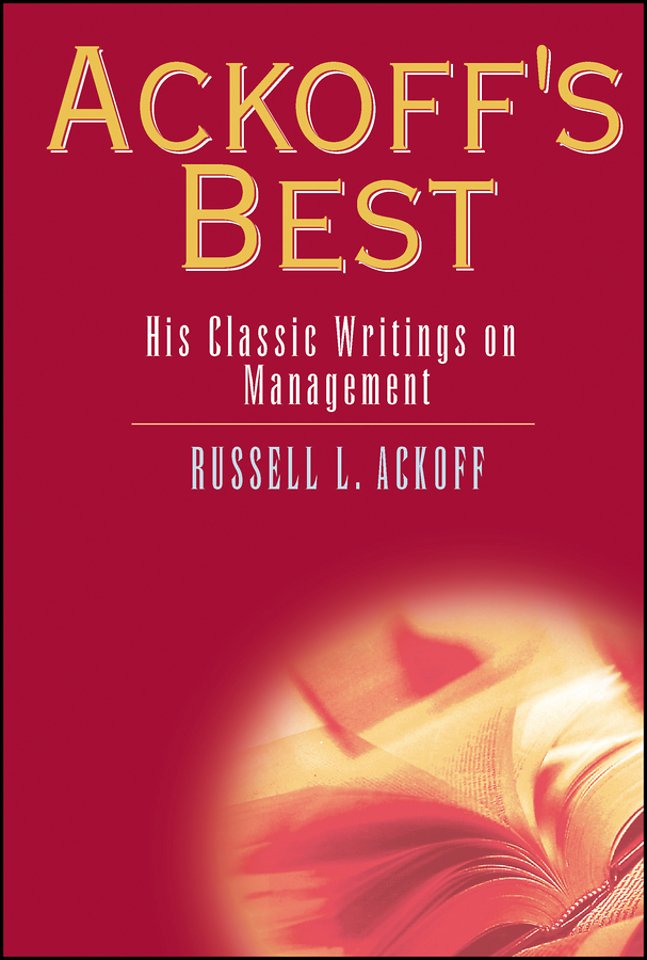 Russell Ackoff
Ackoff′s Best
His Classic Writings on Management
Gebonden
Engels
1999
9780471316343
Verwachte levertijd ongeveer 8 werkdagen
Samenvatting
Russell Ackoff is a very special management thinker. As an architect, city planner, doctor of philosophy, behavioral scientist, trailblazer in the fields of organizational, operations, and systems theory, bestselling author, distinguished Wharton School professor, and head of his own management education and consulting firm, he qualifies, as do few others in this century, for the title of "Renaissance Man." Fortunately, he makes up for this grievous shortcoming by also being an outrageously funny observer of homo commercium. Now, Ackoff′s Best offers you an opportunity to become acquainted with this irreverent genius who, over the past forty years, has done so much to shape our understanding of the modern business organization.
Compiled by the author, Ackoff′s Best encapsulates the author′s most controversial, influential, and wittiest work to appear since the 1970s. Ackoff′s groundbreaking exploration of systems theory and its effect on business provides the backbone of this collection. Also included are his most lasting and thought–provoking writings on an array of topics in business, society, and human behavior that well reflect the sweeping scope of Ackoff′s intellect and expertise. From managing teams, maximizing the effectiveness of information systems, and problem solving, to creativity, crime, and the role of the corporation in a democratic society, these writings are a cornucopia of insights, observations, and powerful lessons that will help you maximize your personal development and the effectiveness of your organization.
An excellent introduction for newcomers to Russell Ackoff, and a welcome compendium of Ackoff′s pithiest writings for those already familiar with his ideas from such classic works as Creating the Corporate Future and The Art of Problem Solving, Ackoff′s Best is required reading for every intelligent businessperson.
"The range, depth, and perspectives of these essays on management illustrate, once again, Russ Ackoff′s unique genius."–Warren Bennis, University Professor, University of Southern California, and Co–author, Co–Leaders
"Russ Ackoff uses words that cut through the familiar and open doors in one′s brain."–Arie P. de Geus, Author, The Living Company
"Ackoff′s Best captures the lucid and compelling explorations of one of the most profound and influential thinkers of our time."–Ray Stata, Chairman of the Board, Analog Devices
"This collection reminds me that I have learned my most valuable lessons from Russ Ackoff."–Vince Barabba, General Manager, Corporate Strategy and Knowledge Development, General Motors Corporation
Specificaties
Verschijningsdatum:
3-3-1999
Lezersrecensies
Wees de eerste die een lezersrecensie schrijft!
Inhoudsopgave
SYSTEMS.
Our Changing Concept of the World.
Reflections on Systems and Their Models.
Growth versus Development.
Toward a System of Systems Concepts.
Beating the System.
PLANNING.
The Nature of Planning.
Alternative Types of Planning.
Problem Treatments.
Mess Management.
Ends Planning.@aMission Statements.
Creativity and Constraints.
APPLICATIONS.
Consumer Design.
Education.@aNever Let Your Schooling Interfere with Your Education.
Crime.
The Effect of Advertising on Sales: A Study of Relations.
On Pairs and Trios: The Smallest Social Systems.
Why People Drink: Toward Understanding Objectives.
Corporate Perestroika: The Internal Market Economy.
Design of Management Systems.
SCIENCE.
The Nature of Science and Methodology.
Objectivity.
Rationality.
The Future of Operational Research Is Past.
Epilogue: The Role of Business in a Democratic Society.
Index.
Mensen die dit boek kochten, kochten ook...