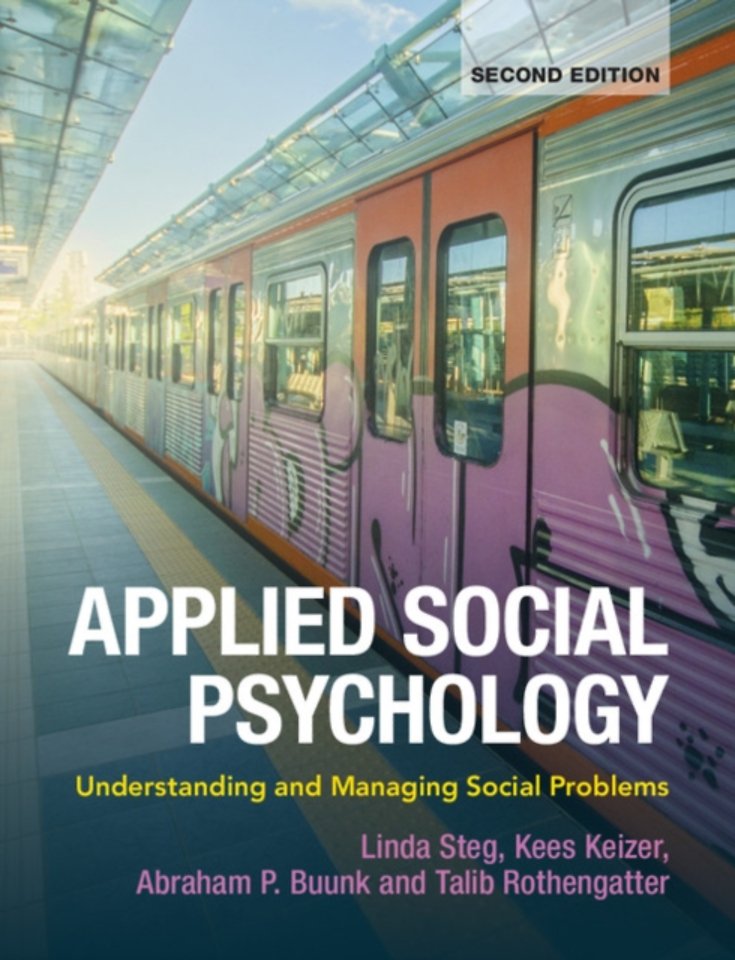 Linda Steg
Linda Steg is Professor of Environmental Psychology at the University of Groningen. Meer over de auteurs
Linda Steg, Kees Keizer, Abraham Buunk
Applied Social Psychology
Understanding and Managing Social Problems
Paperback
Engels
2017
9781107620292
Verwachte levertijd ongeveer 8 werkdagen
Samenvatting
Applied Social Psychology combines the science of social psychology with the practical application of solving social problems that exist in the real world. This exciting textbook provides a thorough explanation of how social psychologists can contribute to the understanding and management of different social problems.
A highly prestigious team of contributors from across Europe and the United States illustrate how social psychological theories, research methods and intervention techniques can be successfully applied to problems encountered in the fields of physical and mental health, immigration and integration, economic behaviour, political behaviour, environmental behaviour, organisations and the classroom.
This expanded edition also features new chapters on the dynamic fields of consumer behaviour, traffic behaviour, criminal behaviour, sport and development aid. Each field studied features an overview of important problems, the role of human behaviour in these problems, the factors influencing relevant behaviour, and effective ways to change this behaviour. This is an essential volume for all undergraduate and graduate students studying applied social psychology.
- Provides a general introduction to social psychological theories, intervention techniques and research methods and how these can be used to solve different social problems
- Illustrated with comical cartoons to demonstrate key concepts
- All chapters conclude with a glossary, review questions and suggestions for further reading
- The second edition includes new chapters on prominent social issues, including consumer behaviour, traffic and transport behaviour, criminal behaviour, sport, organisational behaviour and developing countries
Specificaties
Verschijningsdatum:
24-4-2017
Lezersrecensies
Wees de eerste die een lezersrecensie schrijft!
Over Linda Steg
Linda Steg is Professor of Environmental Psychology at the University of Groningen.
Andere boeken door Linda Steg
Over Kees Keizer
Kees Keizer is Assistant Professor of Environmental Psychology at the University of Groningen.
Andere boeken door Kees Keizer
Over Abraham Buunk
Abraham P. Buunk is Professor of Evolutionary Social Psychology at the University of Groningen and Professor of Social and Organisational Psychology at the University of Curacao.
Andere boeken door Abraham Buunk
Inhoudsopgave
1. Introduction to applied social psychology Linda Steg and Talib Rothengatter
2. The U.S.E. of theory in applied social psychology Mica Estrada and P. Wesley Schultz
3. Applications of social psychology to increase the impact of behaviour-focused intervention Philip K. Lehman, E. Scott Geller and Jan Willem Bolderdijk
4. The dilemmatics approach to applied research design: a case study of violent video game effects and aggression Melissa Burkley and Hart Blanton
5. The social psychology of consumer behaviour Wolfgang Stroebe and Kees Keizer
6. Social psychology and development aid Nina Hansen
7. Social psychology and economic behaviour: heuristics and biases in decision making and judgement W. Fred van Raaij
8. Applying social psychology to the classroom Pascal Huguet and Hans Kuyper
9. Social psychology and environmental problems Linda Steg and Robert Gifford
10. Social psychology of health and illness Arie Dijkstra and Alexanders Rothman
11. Social psychology and immigration: relations between immigrants and host societies Jan Pieter van Oudenhoven, Charles Judd and Colleen Ward
12. Social psychology and mental health Pieternel Dijkstra and Abraham P. Buunk
13. Explaining crime over the life-course Arjan Blokland
14. The social psychology of organisations Dick de Gilder and Naomi Ellemers
15. Social psychology and political behaviour Martin Rosema and Bert N. Bakker
16. Social sport and exercise psychology Remco Polman, Erika Borkoles and Xavier Sanchez
17. Social psychology and driving behaviour Ayça Berfu Ünal and Bryan E. Porter.
Aanbevolen live events...
Ruis & de kunst van het kritisch denken
Mensen die dit boek kochten, kochten ook...