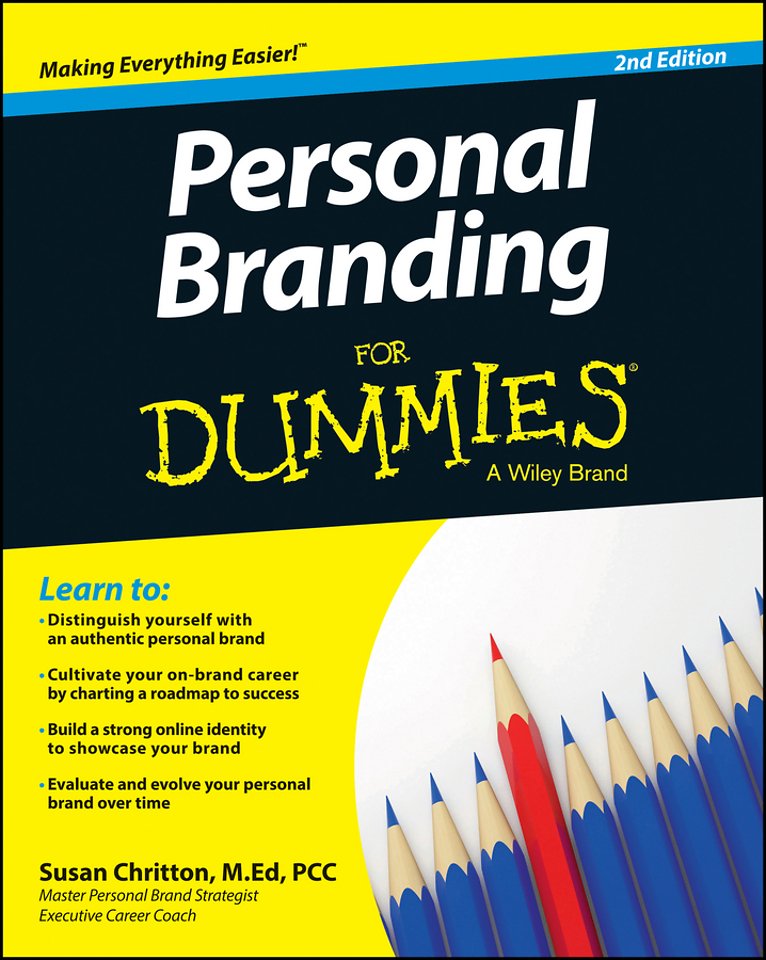 Susan Chritton
Personal Branding For Dummies
Paperback
Engels
2014
9781118915554
Verwachte levertijd ongeveer 8 werkdagen
Samenvatting
The simple guide to managing your personal brand, a vital element of success in the professional world Personal Branding For Dummies, 2 nd Edition, is your guide to creating and maintaining a personal trademark by equating self–impression with other people′s perceptions. This updated edition includes new information on expanding your brand through social media, online job boards, and communities, using the tried and true methods that are the foundation of personal branding. Marketing your skills and personality, and showing the rest of the world who you are, gives you a competitive edge. Whether you′re looking for your first job, considering changing careers, or just want to be more viable and successful in your current career, this guide provides the step–by–step information you need to develop your personal brand. Distinguishing yourself from the competition is important in any facet of business, and the rise of personal branding has evolved specifically to help candidates stand out from the global talent pool. Establishing a professional presence with a clear and concise image, reputation, and status is a must, whether you′re a new grad or an accomplished executive. Personal marketing has never been more important, and your personal brand should communicate the best you have to offer. Personal Branding For Dummies, 2 nd Edition, leads you step by step through the self–branding process. Includes information on how to know the "real" you Explains how to develop a target market positioning statement Helps you make plans for your personal brand communications Instructs you with ways to make your mark on your brand environment The book also discusses continued brand building, demonstrating your brand, and the 10 things that can sink your brand. A personal brand is more than just a business card and a resume. It should be exquisitely crafted to capture exactly the image you wish to project. Personal Branding For Dummies, 2 nd Edition provides the information, tips, tricks, and techniques you need to do it right.
Specificaties
Verschijningsdatum:
15-8-2014
Lezersrecensies
Wees de eerste die een lezersrecensie schrijft!
Inhoudsopgave
Introduction 1 Part I: Why Is Personal Branding Important? 5 Chapter 1: Showing the World Who You Are 7 Chapter 2: Appreciating the Power of Branding 25 Chapter 3: Case Studies in Personal Branding Success 39 Part II: Knowing Your Brand 53 Chapter 4: Defining Who You Are 55 Chapter 5: Spotting Your Target Audience 87 Chapter 6: Knowing Your Niche — and Your Competitors 101 Chapter 7: Crafting Your Personal Brand Profile 113 Chapter 8: Writing Your Story 125 Part III: Communicating Your Brand with the World 139 Chapter 9: Branding Your Traditional Communication Tools 141 Chapter 10: Communicating Your Brand Online 161 Chapter 11: Planning Your Personal Brand Communications 195 Part IV: Controlling Your Brand Ecosystem 211 Chapter 12: Fashioning Your Image to Match Your Personal Brand 213 Chapter 13: Your Visual Identity: Making Your Mark on Your Brand Environment 233 Chapter 14: Focusing on Special Populations 251 Chapter 15: Building and Nurturing Your Network 271 Chapter 16: Personal Branding in the Workplace 287 Part V: The Part of Tens 305 Chapter 17: Ten Key Benefits of Personal Branding 307 Chapter 18: Ten Ways You Can Sink Your Brand 311 Chapter 19: Ten Ways to Demonstrate Your Brand 315 Chapter 20: Ten Things You Can Do to Continue to Build Your Brand 321 Index 325
Mensen die dit boek kochten, kochten ook...