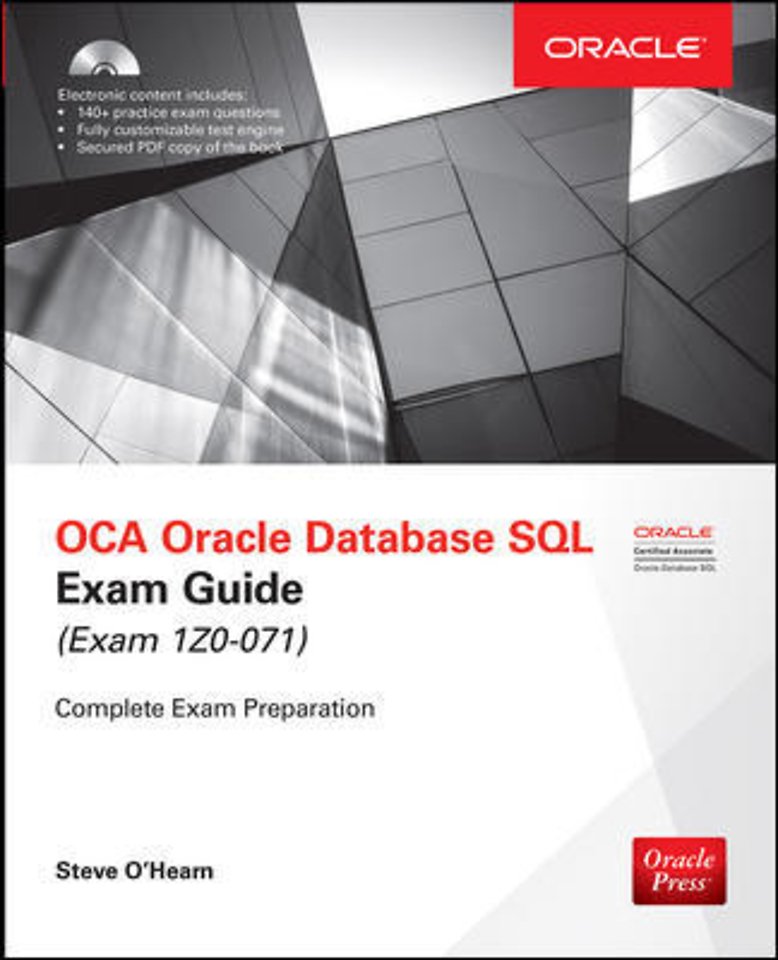 Steve O'Hearn
OCA Oracle Database SQL Exam Guide (Exam 1Z0-071)
Paperback
Engels
2017
9781259585494
Verwachte levertijd ongeveer 10 werkdagen
Samenvatting
A fully updated, integrated self-study system for the Oracle Database SQL Exam
This thoroughly revised Oracle Press guide offers 100% coverage of all objectives on the latest version of the Oracle Database SQL Exam. Ideal both as a study guide and on-the-job reference, OCA Oracle Database SQL Exam Guide (Exam 1Z0-071) features detailed explanations, examples, practice questions, and chapter summaries. "Certification Objectives," "Exam Watch," and "On the Job" sections reinforce salient points throughout. You will gain access to two complete practice exams that match the tone, tenor, and format of the live test.
Get complete coverage every topic on Exam 1Z0-071, including:
- DDL and SQL SELECT statements
- Manipulating, restricting, and sorting data
- Single-row and group functions
- Displaying data from multiple tables
- Subqueries
- Schema objects
- Set operators
- Grouping related data
- Report creation
- Data dictionary views
- Large data sets
- Hierarchical retrieval
- Regular expression support
- User access control
The electronic includes:
- Two full practice exams
- Detailed answers and explanations
- Complete PDF copy of the book
Specificaties
Verschijningsdatum:
18-9-2017
Lezersrecensies
Wees de eerste die een lezersrecensie schrijft!
Inhoudsopgave
1: Oracle and Structured Query Language (SQL)
2: Using DDL Statements to Create and Manage Tables
3: Manipulating Data
4: Restricting and Sorting Data
5: Using Single-Row Functions to Customize Output
6: Using Conversion Functions and Conditional Expressions
7: Reporting Aggregated Data Using the Group Functions
8: Displaying Data from Multiple Tables
9: Using Subqueries to Solve Queries
10: Managing Schema Objects
11: Using the Set Operators
12: Managing Objects with Data Dictionary Views
13: Manipulating Large Data Sets
14: Controlling User Access

Appendix A: About the CD

Glossary

Mensen die dit boek kochten, kochten ook...