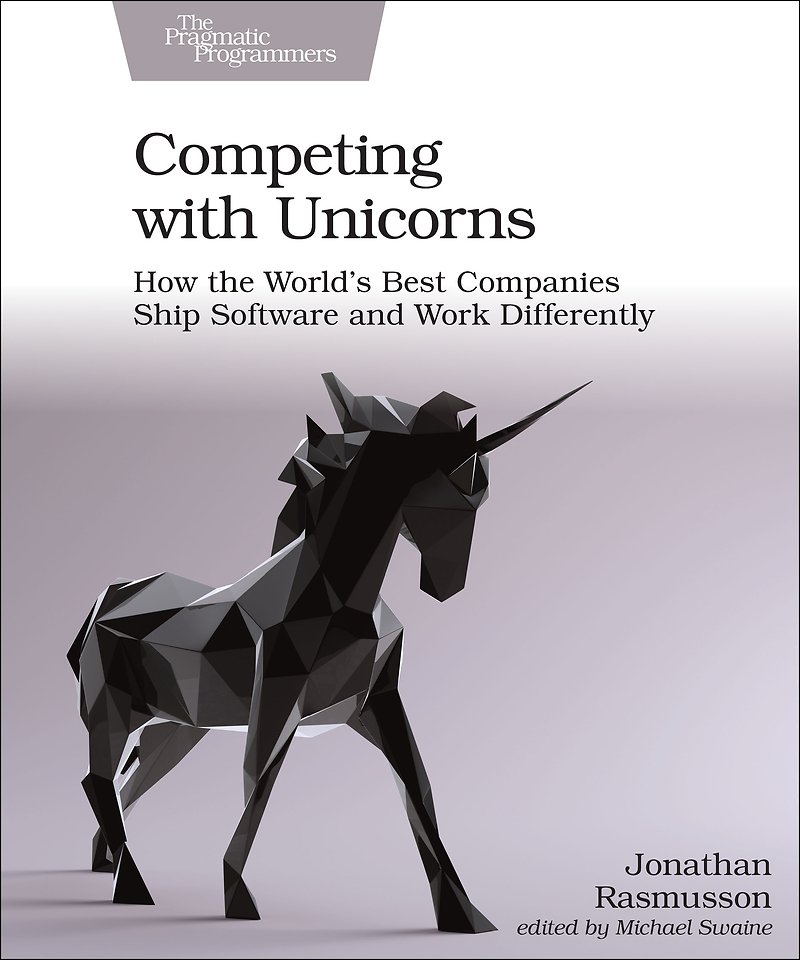 Jonathan Rasmusson
Competing with Unicorns
How the World's Best Companies Ship Software and Work Differently
Paperback
Engels
2020
9781680507232
Verwachte levertijd ongeveer 8 werkdagen
Samenvatting
Massively successful tech companies, or Unicorns, have discovered how to take the techniques that made them successful as a startup and scale them to the enterprise level. Amazon, Facebook, Google, and Spotify all work like startups, despite having workforces numbering in the tens of thousands. Ex-Spotify engineer and coach, Jonathan Rasmusson, takes you behind the scenes and shows you how to develop software the way the best companies do it.
Learn how to give teams purpose through Missions, empower and trust with Squads, and align large scale efforts through Bets. Create the culture necessary to make it happen.
If you're a tech or product lead and you want to ship product better, this is your playbook on how the world's best do it. If you're an engineer, tester, analyst, or project manager, and you suspect there are better ways you could be working, you are correct. This book will show you how. And if you're a manager, Agile coach, or someone just charged with improving how your company ships software, this book will give you the tools, techniques, and practices of the world's most innovative, delivery-focused companies. Don't just admire the top companies—learn from them.
Specificaties
Verschijningsdatum:
27-3-2020
Lezersrecensies
Wees de eerste die een lezersrecensie schrijft!
Inhoudsopgave
It's Good to See You
-How to Read This Book
-Definitions and Language
-Ready Player One?

What's Different About Startups
-Startups Are from Mars
-The Learning Machine
-Enterprises Are from Venus
-The Expectation-Setting Machine
-What This Means for You
-Think Different

Give Purpose With Missions excerpt
-The Problem with Projects
-Enter the Mission
-Missions Engage the Team
-Missions Give People a Sense of Purpose
-Missions Better Align Incentives
-Example Mission
-Give Purpose

Empower Through Squads
-What Is a Squad?
-What Makes Squads Different?
-Product Managers
-Data Scientists
-Decoupled Architectures
-Autonomy, Empowerment, and Trust
-Tips for Leaders
-Q&A
-Empower

Scale with Tribes
-The Challenge of Scaling
-Principles of Scaling
-Tribes, Chapters, and Guilds
-Tribes
-Chapters
-Guilds
-Where Would You Like to Work?
-Q&A Scale Big but Stay Small

Align with Bets excerpt
-A Thousand Flowers Wilting
-Enter the Company Bet
-How Do They Work
-The Beauty of Working This Way
-Tips for Executing
-Make a Bet

Working At a Tech Lead Company
-The World Is Flat
-I'm Not Going to Tell You What to Do
-A Different Attitude Toward Money
-Don't You Trust Me?
-All Information Is Defaulted to Open
-Can I Help You?
-Let Tech Lead

Invest In Productivity
-Create Productivity Squads
-Adopt Self-Service Models
-Host Hack Weeks
-Leverage Highly Technical Product Owners
-Have Higher Expectations Around Quality
-Utilize Internal Open Source
-Continuously Improve at All Levels
-Utilize Feature Flags
-Ship with Release Trains
-Make Tech First Class

Learn with Data
-Data Everywhere
-Instrument Your Product
-Experiment with A/B Tests
-Enter the Data Scientist
-Leverage Data

Reinforce Through Culture
-Different Companies Have Different Cultures
-Spotify Culture
-How Does Good Culture Feel?
-Core Beliefs
-Action Speaks Louder Than Words
-Swedishness
-Culture Matters

Leveling Up—From There to HereDrive with Purpose
-Think Strategic—Act Local
-Fund Teams, Not Projects
-Make Tech First Class
-Act More Like a Startup

Embrace Small Autonomous Teams
-Copy with Context
-Lead by Example
-Empower and Trust
-Take Away the Excuses
-Final Words
Mensen die dit boek kochten, kochten ook...