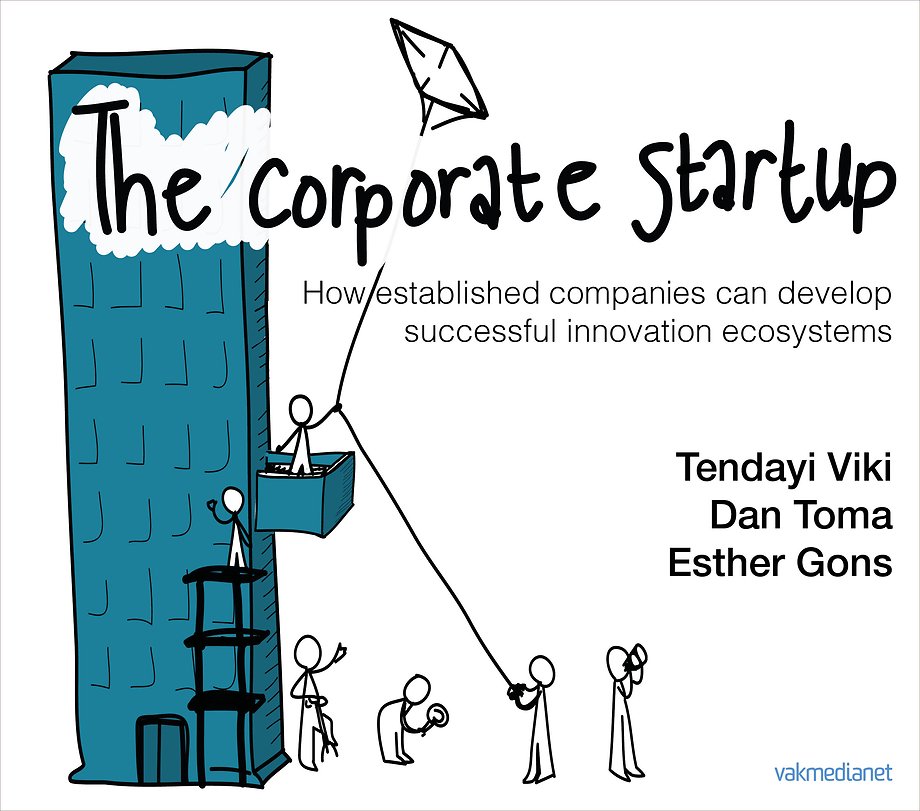 Tendayi Viki
Dr Tendayi Viki is the founder and principal consultant at Benneli Jacobs, a strategy and innovation consultancy firm that helps companies develop internal ecosystems so they can innovate like startups. Meer over de auteurs
Dan Toma: 'Grote ondernemingen zitten gevangen in hun eigen processen'
Paul Groothengel
11 september 2017
Dolgraag nemen gevestigde bedrijven de innovatieve, snelle cultuur van startups over. Ze kunnen daar inderdaad het nodige van leren, schrijven Dan Toma, Tendayi Viki en Esther Gons in De corporate Startup. Maar hoe? Lees het volledige artikel
Tendayi Viki, Dan Toma, Esther Gons
The Corporate Startup
How established companies can develop successful innovation ecosystems
Gebonden
Engels
2017
9789462761506
Op voorraad | Vandaag voor 23:00 uur besteld, morgen in huis
Samenvatting
Tendayi Viki is nominated for the Thinkers50 2017.
'The Corporate Startup' has won the CMI Management Book of the Year Award 2018 in the category 'Innovation and entrepreneurship'.
The Corporate Startup is a practical guide for established companies that aspire to develop and sustain their innovation capabilities.
- The world around us is changing rapidly. There is now more pressure on established companies to innovate.
- The challenge most companies face is how to develop new products for new markets, while managing their core business at the same time.
- The principles and practices outlined in this book provide companies with a blueprint of how to manage innovation while they execute on their core business.
- The Corporate Startup provides frameworks, visualizations, templates, tools and methods that can be easily applied to develop new products and business models.
"Big companies need to innovate or die. The question is how. Companies need a playbook; a process by which they can start the process of transforming their organizations into innovation engines. The Corporate Startup is that playbook. It provides a proven methodology—applying Lean Startup principles and more--for building a culture of innovation." - Ben Yoskovitz, Co-Author of Lean Analytics and Founding Partner @ Highline BETA.
"We have found The Corporate Startup model and the thoughts on the innovation ecosystem very useful in designing our innovation strategy. This book is a must read for all corporate leaders that want to transform their companies to be more innovative."- Erik Kongsvik-Ibsen, Vice President of Strategy and Business Development, Egmont.
"This book is timely addition to the corporate innovation space. It is a must read for anyone working on innovation in medium-size and large companies. The principles and practices, if well implemented can save a company from the disruption death march." - Tim Deeson, Managing Director, Deeson Group.
Specificaties
Verschijningsdatum:
19-4-2017
Interviews en artikelen
(2)
interview
Dan Toma: 'Grote ondernemingen zitten gevangen in hun eigen processen'
Paul Groothengel
11 september 2017
Dolgraag nemen gevestigde bedrijven de innovatieve, snelle cultuur van startups over. Ze kunnen daar inderdaad het nodige van leren, schrijven Dan Toma, Tendayi Viki en Esther Gons in De corporate Startup. Maar hoe?
preview
The Corporate Startup
Esther Gons
7 juni 2017
In plaats van zich als startups te gaan gedragen, zouden gevestigde bedrijven innovatieve ecosystemen moeten opzetten, zo staat te lezen in The Corporate Startup. Een preview.
Over Tendayi Viki
Dr Tendayi Viki is the founder and principal consultant at Benneli Jacobs, a strategy and innovation consultancy firm that helps companies develop internal ecosystems so they can innovate like startups. He holds a PhD in Psychology and an MBA. He has worked as a consultant, speaker and trainer for several companies including Airbus, Amdocs, American Express, The British Museum, General Electric, Josera, Pearson, Pets International, Standard Bank, Tetrapak, Whirlpool and The World Bank. He is also a Contributor at Forbes Magazine. Dr Viki co-designed and helped implement Pearson's Product Lifecycle, which is an innovation framework that won Best Innovation Program 2015 at the Corporate Entrepreneur Awards in New York.
Andere boeken door Tendayi Viki
Over Dan Toma
Dan Toma comes from an entrepreneurial background. He has been involved with Hi-Tech and internet start-ups across the world and is an entrepreneurship community leader in Europe. In recent years, he started focusing more on enterprise innovation management, specifically on the changes large organizations need to make to allow for disruptive new ventures to be built in a corporate setting. He has worked with companies like Deutsche Telekom, Bosch, Jaguar Land Rover and Allianz. A big proponent of the ecosystem approach to innovation, Dan has also worked with various government bodies in Asia and Europe, helping developing national innovation ecosystems and implement national innovation strategies. The work experience gathered from the public and private sector has been translated into various experiential courses that Dan has delivered for universities worldwide.
Andere boeken door Dan Toma
Over Esther Gons
Esther Gons is co-founder and investor of NEXT.amsterdam, helping startups from ideas phase to a working business model. She has developed the entrepreneurship course for the Communication Multimedia and Design program at the Amsterdam University of Applied Sciences. She is also an international speaker who organized the first StartupBus Europe tour in 2011 and has acted as lead mentor at Rockstart Accelerator for the past 6 years. As a visual spatial thinker she was part of bringing the lean startup movement to the Netherlands. Esther has mentored over 100 startups so far and still acts as advisor for many of them. Connecting corporates to the startup ecosystem is important to NEXT, so Esther is also frequently involved in corporate innovation.
Andere boeken door Esther Gons
Inhoudsopgave
Introduction - Innovation Paradox

Part 1: Ecosystem

1. Innovation Ecosystem
2. Innovation Thesis
3. Innovation Portfolio
4. Innovation Framework
5. Innovation Accounting

Part 2: Practice

6. Creating Ideas
7. Testing Ideas
8. Scaling Ideas
9. Renewing Ideas
10. Start Today

Epilogue - Putting It All Together
Earlyvangelists
About the Authors
Index
Notes
Aanbevolen live events...
Mensen die dit boek kochten, kochten ook...