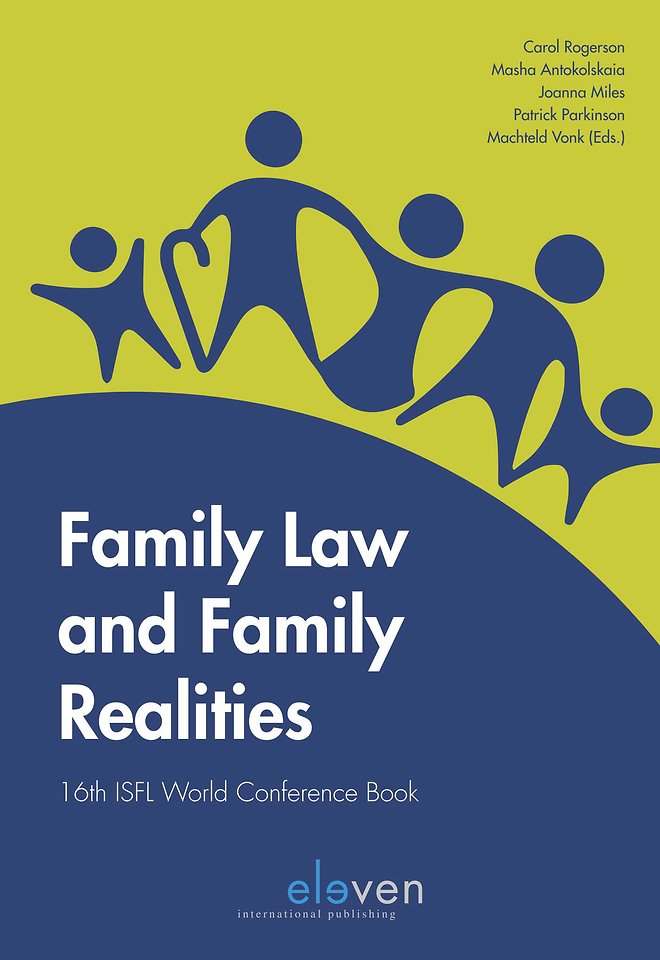 Samenvatting
Family Law and Family Realities contains a selection of papers presented at the 16th World Conference of the International Society of Family Law (ISFL) that took place in 2017 in Amsterdam, the Netherlands. The central theme of this volume is whether international and national family laws still adequately reflect changing family realities. The issues are examined in different geographical, political, social, cultural and religious settings, giving insight into how family laws relate to the actual practices and needs of different types of traditional and non-traditional families and to the distinct needs of vulnerable family members.
Contributors come from western and eastern Europe, Israel, Africa, North and South America, Australasia and Asia. Specific topics addressed in the early chapters include cohabitation, same-sex relationships, polyamory, stepfamilies, ART, and the financial and parenting issues raised by divorce. Subsequent chapters deal with a wide range of new issues related to protecting the interests of children (e.g. cultural identity, gender identity, migration, the internet) and to providing care for the elderly and persons with disabilities.
Family Law and Family Realities offers comprehensive coverage of global and contemporary family law topics and is therefore of interest to family law practitioners, academics and policy makers.
Specificaties
Verschijningsdatum:
3-5-2019
Lezersrecensies
Wees de eerste die een lezersrecensie schrijft!
Over Masha Antokolskaia
Prof.mr. M.V. Antokolskaia is hoogleraar privaatrecht aan de Vrije Universiteit Amsterdam.
Andere boeken door Masha Antokolskaia
Over Joanna Miles
Joanna Miles is Reader in Family Law & Policy and Fellow of Trinity College, University of Cambridge. Her research interests within the field include the legal regulation of adult relationships, family property law, and financial remedies on relationship breakdown and death.
Andere boeken door Joanna Miles
Over Machteld Vonk
Mr.dr. Machteld Vonk is als universitair docent/onderzoeker familierecht en rechtsvergelijking verbonden aan het Utrecht Centre for European Research into Family Law (UCERF) van het Molengraaff Instituut voor Privaatrecht, Universiteit Utrecht.
Andere boeken door Machteld Vonk
Inhoudsopgave
Family Law and Family Realities: Introduction 1
Masha Antokolskaia

Part I Family Law and Family Realities: Overarching Themes

-Personal Autonomy and Legal Recognition of Sexual and Gender Diversity: The German Perspective 9
Nina Dethloff
-A Dialogue between Freedom of Religion and the Rights of Families 19
Isabella Nogueira Paranaguá Carvalho Drumond
-Changing Families and the Need for Policy to Protect Children 29
Linda D. Elrod
-Trends, Values, and Changes in Families and Family Law in the USA: Towards Realism, Idealism or Confusion? 47
Lynn D. Wardle

Part II Relationship Recognition: Responding to Family Diversity

-Does the Italian Civil Partnerships and Cohabitants Act n. 76/2016 Answer
Current Societal Needs? 65
Denise Amram
-The Certification of Marriages in African Pluralistic Legal Systems with Special Reference to Customary Marriages in South Africa and Zambia – A Case for Parallel and Decentralised Certification Systems 73
Chuma Himonga
-The Evolution of European Court of Human Rights Case Law on the Right to Family Life through its Milestone Judgments on Same-Sex Couples (2010-2018) 89
Dafni Lima
-Cohabitation Laws: Where Do We Go from Here? 105
Zanele Nyoni
-Legal Protection of Parallel and Polyamorous Families: A Long Way to Go 115
Hannetie Kiyono Koyama Sato
-Cross-Border Recognition of Same-Sex Formalized Unions in the Baltic States and the Challenge of Intersectionalizing Private International Law 123
Laima Vaigė
-Whenthe Bough Breaks –APostmodern Approach to Redefining Family Law to Protect Children's Rights in Marriage Equality, Same-Sex Adoption and Religious Freedom Legislation 143
Crystal Welch and Melissa Joy Reger

Part III New Models of Parenthood

-Argentina's Absence of Regulation of Surrogate Motherhood: A Case of Judicial Activism and Unforeseeable Consequences 161
Mercedes Ales
-The Japanese Gender Identity Disorder Act: Possible Amendment and Its
Implications for Family Law 169
Mai Ishijima
-The "Law in Context" for (Stepchild) Adoption in Same-Sex Couples: The Italian Models 187
Alessandra Pera
-Stepfamilies and the Law in Japan 203
Maia Roots
-Your Mum is not Your Mum?! Comments on a Custody Case Concerning Surrogacy in China 219
Lei Shi
-Assisted Reproductive Technologies: New Family Forms and Welfare of Offspring in Comparative Family Law 235
Gordana Kovaček Stanić and Sandra Samardžić

Part IV Family Relationships and Financial Obligations

-The Child's Right to Maintenance: Criteria for Establishment of the Amount and Form of Maintenance in Lithuania 253
Inga Kudinavičiūtė-Michailovienė and Vitalija Šimkienė
-Marital Agreements: What's Love Got to Do with it? Challenges and Possibilities of the Ex Contractu Conformation of the Patrimonial Effects of Marriage 269
Rute Teixeira Pedro
-Evidence-Based and Politics-Driven: Comparing Child Support Law Evaluations Across Welfare-State Models 285
Elizabeth Stuart Perry
-Is Post-Divorce Spousal Maintenance in Bulgarian Law Obsolete? 303
Dimitar Topuzov
-The Dissolution of Marriage: Law versus Real Needs 315
Cinzia Valente

Part V Regulating the Parent-Child Relationship When Parents Live Apart

-A Family Impact Analysis of the Proposed Children Proceedings (Parental Responsibility) Bill in Hong Kong 333
Yuk King Lau
-Parental Alienation, Contact Refusal and Maladaptive Gatekeeping: a Multidisciplinary Approach to Prevention of Contact Failure 349
Philip Marcus
-Growing Numbers of Parental Responsibility Agreements following Divorce Reform in Croatia 367
Branka Rešetar
-Legal Rules on the Exercise of Joint Parental Responsibility by Parents Living Apart: A Comparative Approach to the Law and its Impact on Bargaining Power 383
Kirsten Scheiwe

Part VI Protecting Children's Rights and Interests: New Challenges

-"Vulnerable" Children, Cultural and Social Realities and Regulation: Moving Towards Early Intervention in New Zealand 403
Bill Atkin
-The Legal Impact of Article 3 CRC as a Corrective Remedy – Is Article 3 CRC to Youth Law What Article 8 ECHR Was/Is to Family Law? 421
Coby de Graaf
-Protecting Children Affected by Atypical Gender Identity Organization: A Comparative Legal Perspective 435
Elena Falletti
-Tell Me Your Surname and I'll Tell You Where You're From: Focus on the Negative Implications of Domestic Surname Policies on Minors with Dual Citizenship 451
Isabella Ferrari
-Legal Aspects and Parents' Perception of the Protection of Children on the Internet in the Republic of Serbia 467
Nadežda Ljubojev, Dragana Glušac and Dragica Radosav
-Domestic Violence against Children: Legislation, Practice and Prospects in China 481
Ran Qiyu and Peng Wanran
-Perspectives on the South African Statutory Regulation of Child-Headed Households 497
J.A. Robinson and Ronelle Prinsloo
-Guardianship for Children: Challenges in the Context of Migration 511
Velina Todorova

Part VII Families and Care for Dependants

-Eldercare in Belgian Public and Private Law: Who Cares? 529
Elisabeth Alofs, Frederik Swennen and Anne-Sophie Vandenbosch
-Care for People with Disabilities in Italy: A Critical Analysis of Act 112/2016 on Assistance for People with Serious Disabilities Lacking Family Support 545
Letizia Palumbo
-Taking Care of Rain Man: Interaction between Parental Estate Planning and Disability Benefits 563
Veerle Vanderhulst
Mensen die dit e-book kochten, kochten ook...