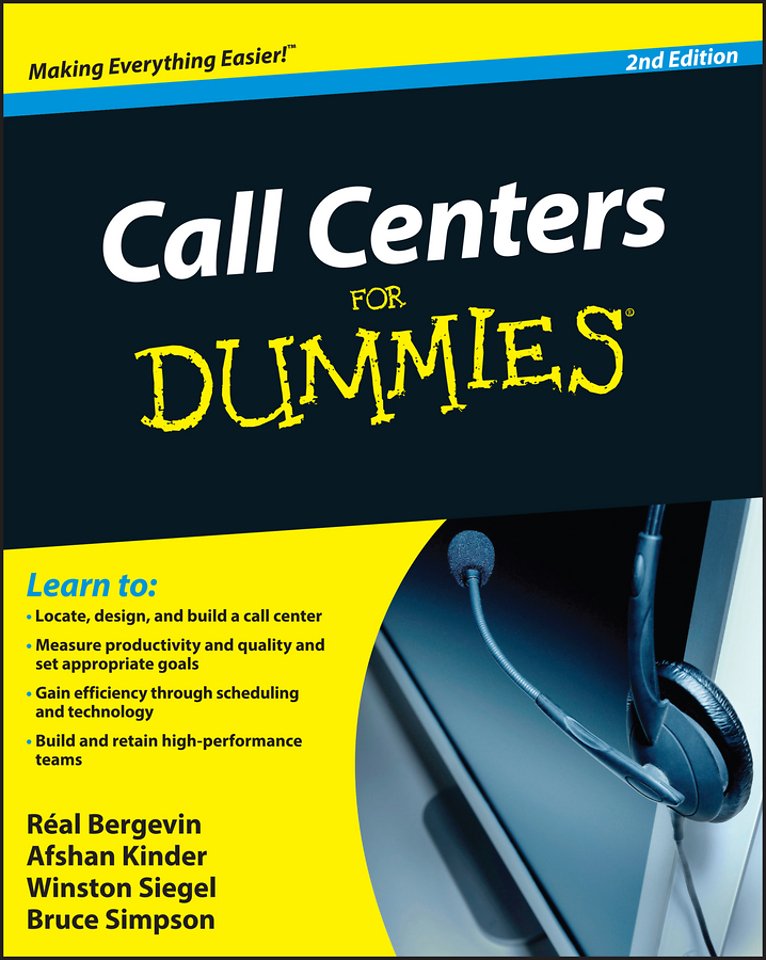 Samenvatting
Your friendly guide to profitable call center management. The call center industry is one of the world′s most rapidly growing and fastest changing. For call center managers or anyone who just wants the inside scoop on this exciting field, this guide is a must–read.
Loaded with best practices from the most successful call centers around the world, Call Centers For Dummies covers everything you need to know, whether you′re just setting up shop or looking to improve your operations.
- Start from the ground up — investigate where to locate and how to build a call center, understand the roles and responsibilities in a call center team, and consider the outsourcing option
- Call center business basics — create a successful call center business model, determine achievable goals, and measure your center′s progress through business drivers
- Ensure proper resource management — discover how to always have the right staff levels — including home agents — through forecasting and scheduling
- Gain efficiency through technology — see how advances in call center technology, such as interactive voice response and Voice over Internet Protocol, can help your call center agents be more productive
- Build high–performance teams — recruit and retain the best people by providing great training and keeping your agents motivated
- Keep improving — explore strategies to identify areas of improvement and learn how to manage change within your call center
Open the book and find:
- How to develop a positive company culture and high employee engagement
- Strategies to improve your customer satisfaction scores and first–call resolution
- Tips for designing the ideal space for your center
- How to select the right outsourcing partner
- How to create people–friendly work schedules
- How to set up a home agent program
- Ways to decrease costs and increase efficiency
- Learn to: Locate, design, and build a call center
- Measure productivity and quality and set appropriate goals
- Gain efficiency through schedulingand technology
- Build and retain high–performance teams.
Specificaties
Verschijningsdatum:
1-1-2010
Lezersrecensies
Wees de eerste die een lezersrecensie schrijft!
Inhoudsopgave
Introduction.

Part I: From the Ground Up: An Overview of the Call Center.
1. A First Look at Call Centers.
2. Business Basics: Models and Drivers and Goals, Oh My!
3. Developing the Cast of Characters.
4. Building a Call Center of Your Own.
5. Choosing the Outsourcing Option.

Part II: The Master Plan: Finance, Analysis, and Resource Management.
6. Analyze This!
7. Right People, Right Place, Right Time: Resource Management.
8. Call Center Scheduling: Not As Simple As 1, 2, 3.

Part III: Making Life Better with Technology.
9. An Introduction to Call Center Technology.
10. Technological Enhancements: Getting the Newest and Coolest Stuff.
11. Using Home Agents.

Part IV: Creating High-Performance Teams.
12. Hiring and Training.
13. Creating a Coaching Culture.
14. Creating a Motivated Workforce.

Part V: Ensuring Continuous Improvement.
15. The Power of Process Improvement.
16. Mastering Change in Your Organization.
17. Quality-Control Programs and Certifi cations.

Part VI: The Part of Tens.
18. Ten Ways to Improve Agents' Job Satisfaction.
19. Ten Questions Every Call Center Manager Should Answer.
20. Almost Ten Ways to Decrease Call Center Costs and Increase Efficiency.

Appendix A: Key Call Center Definitions and Concepts.
Appendix B: Call Center Support Services.

Index
Mensen die dit boek kochten, kochten ook...